What an incredible year it's been for our city and our state (both good and bad).
We've seen almost every natural disaster, including flooding, tornadoes, and wildfires, and witnessed some truly unbelievable events, including rioting, UFO sightings, and even a naked man walking 10 miles down I77.
We've also seen a ton of positive developments in 2016, including the announcement of the new 1,300 acre River District, a $683 million re-development of Uptown's Second Ward, and a game-changing new Charter School on Charlotte's West side. We've opened our first beach, and our first ninja-warrior training facility, became one of the first cities in over 50 years to fly commercially to Cuba, and nearly completed our first TopGolf center.
Since January 1st, 2016, CharlotteStories.com has published over 1,000 articles that have been viewed over 8,653,123 times.
These are the top 10 Charlotte Stories of 2016:
Published October 13 – 33,990 total views
Movement School will be a new tuition-free public charter school on Charlotte's west side (most economically depressed corridors in the Queen City) – aimed at drastically increasing upward mobility among youth in the area….READ MORE
#9 NC Passes Law To Block Access Of Police Body Cam Footage
Published on July 12 – 41,610 total views 
Governor Pat McCrory just signed House Bill 972 into law that will block public access to any future police body cam footage. The new law is in direct opposition of many civil liberties groups, who have actually been lobbying and protesting for increased access to body cam footage…READ MORE
Published on September 3 – 50,744 total views
A local realtor was hospitalized and had to have her stomach pumped after she had a date rape drug slipped into her water bottle at an open house she was hosting…READ MORE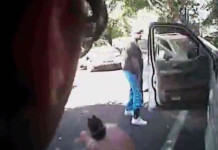 Published on September 24 – 87,380 total views
The Charlotte-Mecklenburg Police Department has just released body-worn camera and dash-cam footage from the shooting of Keith Lamont Scott, who was shot dead by police on Tuesday. Police say Scott was armed with a handgun. His family disputes that.
Here is the raw footage of one of the body cams…WATCH VIDEOS
Published on March 24 – 100,228 total views
The North Carolina Bureau of Investigation finished a multi-year operation which uncovered 12 meth labs around the Concord region, including one in a Concord Mills Store…READ MORE
Published on October 22 – 100,634 total views
A video outside Le Meridien hotel in uptown Charlotte has gone viral this week as some say it shows evidence of an Unidentified flying object trying to communicate with earth…WATCH VIDEO
Published on December 17 – 105,987 total views
Today the Charlotte region saw high temperatures only reach about 46°, but in spite of the frigid temperatures, one man was spotted walking almost 10 miles down I77 without any clothes on…READ MORE
Published on December 26 – 269,807 total views
Forest Hill's creative team
produced a video released on Facebook last month to introduce the new message series and recently it started to go viral.
It's now been shared over 80,000 times and viewed over 4.6 million times…WATCH VIDEO
Published on November 9 – 315,642 total views
As the drought continues to linger in the South East, wildfires are now spreading throughout the Blue Ridge mountains, and now into the Piedmont of North Carolina. Evacuations have even begun to take place around Lake Lure, which is…READ MORE
#1 3 Area Counties Report Voting Machines Picking Wrong Candidates
Published on October 27 – 324,830 total views
NC's election board has just reported a high number of complaints about electronic voting machine errors and wrong selections.
State Board of Elections spokesman Pat Gannon commented this week that the complaints involved touch-screen machines used for early voting…READ MORE
What's your favorite Charlotte Stories News article from 2016? 
If you have any news tips or interesting story ideas, please Email us at Press@cltstories.com
Comments
comments