Last night at around 6:40pm a tornado warning was sent out to multiple counties in the greater Charlotte region. About 10 minutes later, the tornado touched down in South-West Charlotte and caused damage to several homes and businesses in the Yorkmont area.
Most of what's been reported so far includes broken windows, uprooted trees, and power outages.
Here's the actual tornado itself caught on a security camera (it whips by quickly at about second 28):
Here's the video of some of the damage that was done to the Microsoft corporate camus on Arrowwood Rd:
Small tornado just went by the building I was in. Wind was so strong it shattered the revolving door #charlotte pic.twitter.com/gZVq5xs29k

— Aaron White (@iamaaronwhite) November 30, 2016
CMPD: Driver was in truck as it was parked; sustained head injury; taken to CMC Main @wcnc pic.twitter.com/JnRJqftPUl

— Brandon Goldner (@BrandonWCNC) December 1, 2016
#WatchWBTV: Neighbors say storm was "intense" in Ayrsley. Trees down, power out. Woman said it was like watching the Wizard of Oz #CLT pic.twitter.com/5H1hflCEVz

— Mark Davenport WBTV (@TheDavenReport) December 1, 2016
Some of the hardest hit properties were along S. Tryon St. near Westinghouse Blvd.: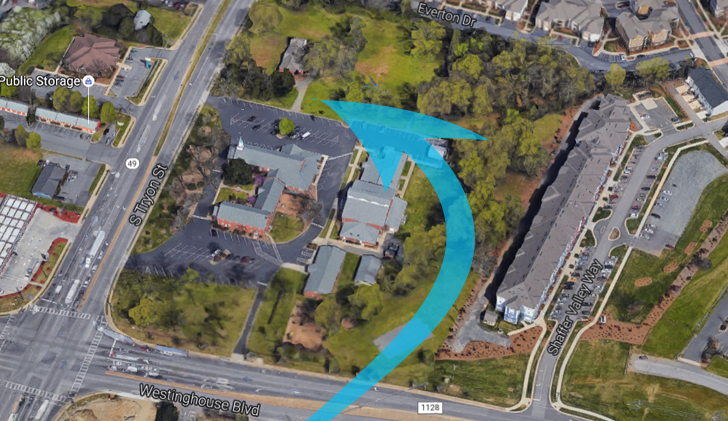 I spoke with a couple who lived on the 4th floor of the apartment complex on Shaffer Valley Way. They told me that about 10 minutes after the tornado warning appeared on their phones, they began to hear loud cracks and debris hitting the window. When they looked outside they both saw the tornado touching the ground, traveling north along the treeline.
I spoke with a deacon of Central Steele Creek Presbyterian Church and he told me that shingles had been torn off, and even the copper sheathing on the steeple:
If you have any additional images of last night's storm, please Email us at Press@cltstories.com
Comments
comments