Today the Charlotte region saw high temperatures only reach about 46°, but in spite of the frigid temperatures, one man was spotted walking almost 10 miles down I77 without any clothes on.
Emergency crews picked him up after he had walked from just north of Exit 33 down to Exit 28 (according to witness reports).
Here's a picture of the man that was posted by Facebook user Lou Anne Johnson (we blurred the private area before uploading);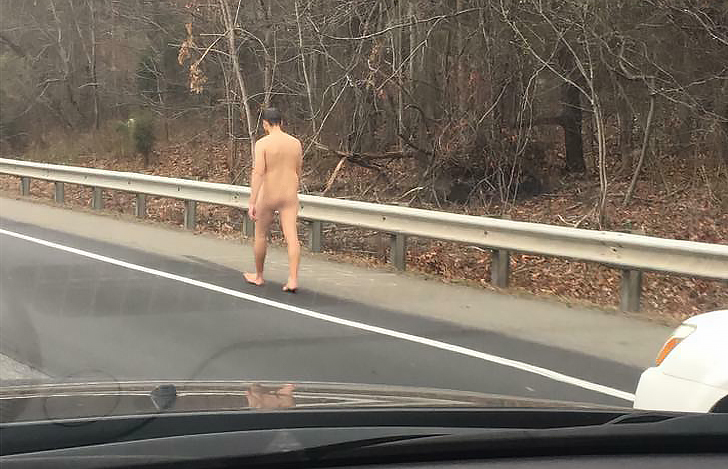 and another shot of the man taken at 2:22pm by Facebook user Rashel Limper (picture also strategically blurred);
and here's a video of the man from the other angle;
We just spoke with Daniel Chagoyan, a 'good samaritan' who stopped to help the man, here is what Daniel told us:
"I saw him walking on 77 south, close to Exit 28. I pulled over and went up to him. I got a shirt out of my car and gave it to him and the man took it and put it on. I kept asking the guy if he was ok, with no response back. Then I offered to give him a jacket, which he refused. I then brought him to the passenger seat of my car and turned my heater on to warm him up. He still wasn't talking. The man's skin turned red, but his body didn't seem to be shaking from the cold. The whole time, the man was looking down and the only look on his face was of resentment or hate. The ambulance arrived about 5 minutes later and asked me several questions, then thanked me and took the man to the hospital."
Police have not yet released any more information about the man's name, or why he was walking along the side of the highway without any clothes.
Comments
comments