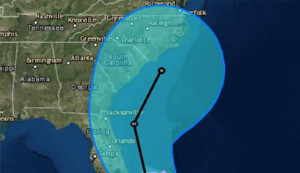 Hurricane Matthew, the most powerful Atlantic tropical storm in almost a decade, is now gearing up to deliver a potentially devastating blow to the Caribbean as it begins its northward journey up to eastern coast and into the continental united states.
It's now expected to make landfall in the Carolina's sometime later this week.
Evening forecast models projected the storm could hit the Carolinas as soon as late Friday or early Saturday, with winds of over 100 mph.
Governor Pat McCrory just declared a state of emergency in 66 counties, saying, "We want to be prepared."
"While we do not yet know how Hurricane Matthew will impact North Carolina, we do know that we can expect some form of impacts on our state," McCrory commented during a news conference.
The last storm to push hurricane-force winds into the Charlotte region was Fran in 1996.
We will continue to update this article as we receive new information.
Comments
comments