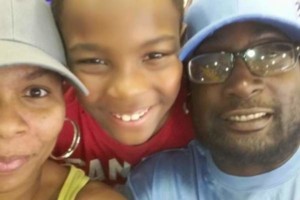 Protests erupted in the University City area of Charlotte last night after a CMPD officer fatally shot Keith Lamont Scott while they were serving a warrant for a different man at an apartment complex on Old Concord Rd.
Keith was shot in the parking lot of the Village at College Downs apartment complex just before 4 p.m., and later died in the hospital.
According to a statement by the CMPD, the man exited his vehicle armed, and posed an imminent threat to officers. Keith's family, however, had a different version of the story:
Sister of the man police shot and killed: "he didn't have no gun, he wasn't messing with nobody" @wsoctv pic.twitter.com/37k55Lt70H

— Joe Bruno (@JoeBrunoWSOC9) September 21, 2016
Charlotte authorities are still investigating the shooting – they have already suspended the officer who pulled the trigger.
Soon after the shooting, several hundred protesters gathered near the apartment complex, and things quickly took a violent turn:
#PrayForCharlotte pic.twitter.com/mxpjpbAzBy

— Gah Damn Gah Damn (@coolly_coolly) September 21, 2016
After the protesters began to throw rocks, police responded with tear gas and riot-gear in an attempt to break up the crowds.
Approximately 12 officers injured. One officer hit in face with a rock

— CMPD News (@CMPD) September 21, 2016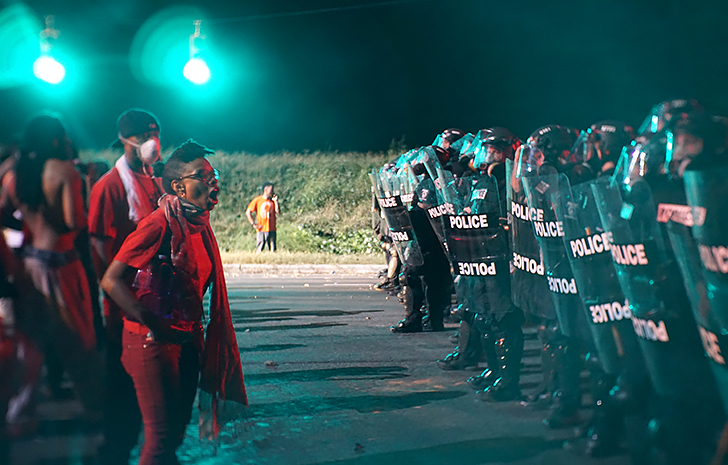 Protesters also lit a fire in the middle of i85 from boxes and other materials from a semi-truck:
The fire ended up stopping all traffic on i85 for miles early Wednesday morning:
Many of the protesters I spoke with expressed complete frustration in the law enforcement system and felt that widespread changes need to be made regarding how officers are trained and equipped.
Protesters also told me that they plan on continuing the protest in Uptown Charlotte throughout Wednesday afternoon and evening.
UPDATE 2:45am:
Several dozen protesters attempted to break into the Walmart on North Tryon St:
BREAKING | Dozens of protesters are breaking into the Walmart on North Tryon Street. @wsoctv pic.twitter.com/2b2lmwqC2g

— Mark Barber (@MBarberWSOC9) September 21, 2016
So far 1 protester have been arrested.
UPDATE 10:18am:
Million Youth March of Charlotte is organizing a prayer vigil tonight (9/21) at 7pm in Uptown Charlotte's Marshall Park.
A separate group of organizers have said that they're expecting hundreds of protesters at Sharon Rd & Fairview Rd tomorrow morning (9/22) between 11am and 12pm.
UPDATE 6:00pm (9/21): 
Protests have started in Uptown Charlotte at the corner of Trade and Tryon – a prayer vigil is planned for 7pm in Marshall Park.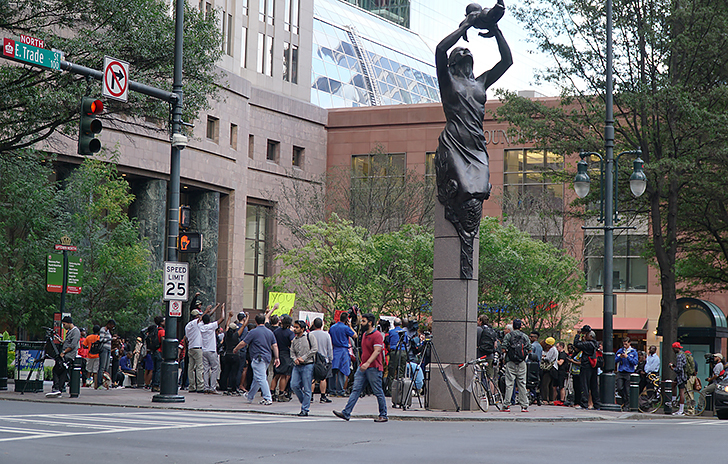 UPDATE 7:00pm (9/21):
Protesters have now moved to Uptown Charlotte's Marshall Park where the Million Youth March of Charlotte organization will be holding a prayer vigil.
UPDATE 1:00am (9/22):
A State of Emergency has just been declared for North Carolina after historic riots and looting swept through the streets of Uptown Charlotte on Wednesday night:
UPDATE 4:30pm (9/22):
Police have now started carding people who want to enter Uptown Charlotte in order to limit out-of-state instigators and rioters. #PrayForCharlotte
There have been confirmed accounts of plans to riot and loot in Southpark and Ballantyne this evening.
There is now a live map with all the reported incidents of rioting around the Charlotte region.
UPDATE 6:30pm (9/22):
The man who was shot last night during Uptown riots has just died in the hospital.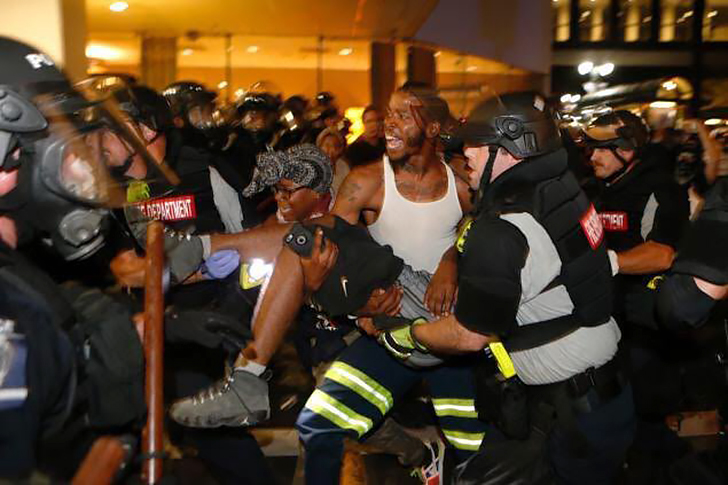 UPDATE 7:00pm (9/22):
Protesters are now gathered near the Omni Hotel and Romare Bearden Park in Uptown Charlotte.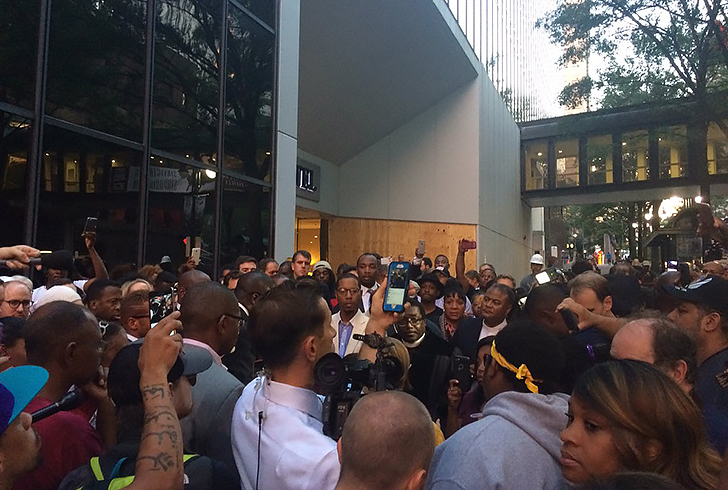 UPDATE 1:00am (9/23):
Night 3 of protests in Charlotte saw an incredible level of peace and restraint by both police and protesters. Thousands gathered in Romare Bearden Park and marched around the city for over 5 hours.
At one point, a few dozen protesters blocked traffic on 277, but police were able to effectively disband them and the remainder of the protesters continued marching through the streets.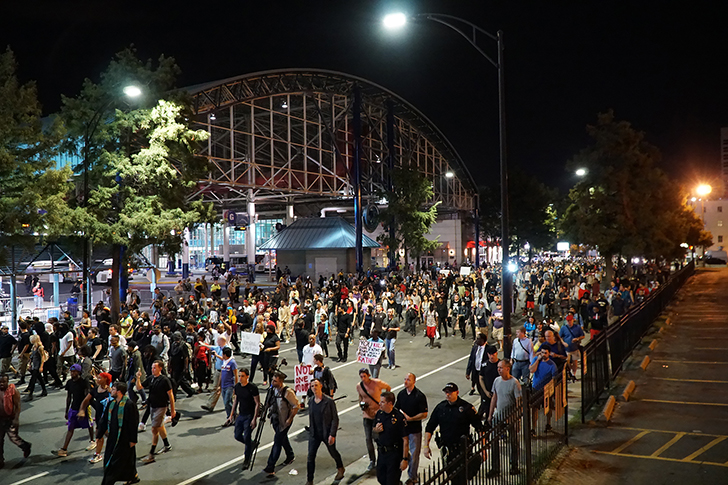 See more pictures of tonight's protest in our day 3 gallery here.
UPDATE 3:00pm (9/23):
Attorney's for the Scott family have just released a cell phone video of the shooting to the New York Times. You can watch the video here.
UPDATE 6:00pm (9/23):
National guard troop and police have begun to enter into Uptown Charlotte for an anticipated 4th night of protests.
UPDATE 9:30pm (9/23):
Protesters briefly entered 277 but police were able to quickly divert them back onto city streets, protests have been peaceful tonight.
UPDATE 12:57am (9/24):
Protesters seem to be peacefully dispersing. No arrests, no gas, no injuries, and no property damage have been reported.

— CMPD News (@CMPD) September 24, 2016
UPDATE 11:00am (9/24):
There is now a protest scheduled for Marshall Park today from 1pm-4pm
UPDATE 6:56pm (9/24):
Police have just released the body cam footage of the shooting, watch it here.
We will continue to update this article as more information comes in.
Comments
comments