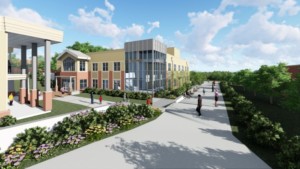 One of Charlotte's top private schools, Charlotte Christian, just broke ground on their new $8 million Center for Worship and Performing Arts. The new building will be home to the Alkire Auditorium, the school's first auditorium which will seat more than 500 people for chapels, full-scale theatrical productions, and school assemblies.
Some of the expansion's biggest donors were on hand at last week's ground breaking, including; Rick and Linda Hendrick, David Bellamy of LS3P, and Will Caulder of Rodgers Construction.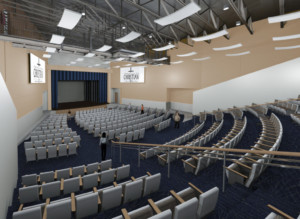 The Center for Worship and Performing Arts will be a two-story 21,000 square foot facility built immediately behind the Hendrick Center for Arts and Science. In addition to the 520 seat auditorium for chapels, theater productions and school assemblies, the state-of-the-art facility will also include a black box theater for smaller productions, a scene shop for set construction, dressing rooms, and a window-line gallery for visual arts displays.
Construction on the new building will begin in December of this year with completion scheduled for the fall of 2017. The building project is part of the school's 2020 Vision Strategic Plan and is being made possible by the generous gifts of friends and families of the school.
"We are extremely thankful for this great addition to our campus and for God's provision through the Hendrick family and our friends and families who have generously donated to this campaign," shared Head of School Barry Giller. "Our students are excited about having a state-of-the-art facility to host our chapels, concerts, plays and musicals. I am grateful to the leadership of the board of trustees in remaining committed to the school's master campus plan and in particular the vision for this facility."
Comments
comments