What a crazy year it's been!
In 2016, the state of North Carolina witnesses pretty much every natural disaster, other than a full-blown volcanic eruption.
From Tornadoes, to Fires, to Riots, to Flooding, here are the top 10 worse disasters to hit our state in 2016:
The U.S. Geological Survey recently reported an earthquake at roughly 6:30 a.m. on the morning of December 16th, 2016, about 20 miles west northwest of Asheville. The quake measured a 2.9 magnitude, and was about 2 miles beneath the surface of the earth.
There were no immediate reports of damages or injuries. The earthquake could be felt in downtown Asheville, according to Asheville's Citizen Times newspaper.
A water main under Independence Blvd. broke on August 29th, and due to the massive water flow, a giant sinkhole formed, swallowing a large section of the roadway.
The sinkhole formed on the South-East lane of Independence between between Wallace Rd and East WT Harris Blvd, read more about Charlotte's sinkhole here.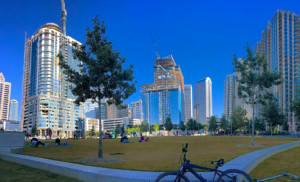 For most of the month of October, the entire Charlotte region saw no rainfall.
On November 1st, the city officially declared a stage 1 drought.
The official drought status meant cutbacks from the city, and voluntary water restrictions for residents and local businesses, find out more about Charlotte's 2016 drought here.
#7 Ice Storm
A major winter storm blew through our state starting on January 20th, that resulted in closed schools and businesses, widespread power outages, and completely iced-over roads.
On January 22nd, 2016, over 6,000 people woke up without power in the mountains and Charlotte region, due to a massive ice storm that blanketed the southeast. Seven hundred homes were without power in Mecklenburg County alone, according to WBTV.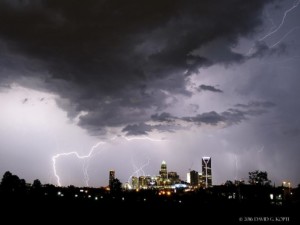 Perhaps the worst thunderstorm of the year happened on July 8th, 2016.
The storm climaxed in Center City Charlotte at around 8:30 p.m., with powerful wind gusts upwards of 50 mph, blinding rain, and vivid lightning.
The storm left nearly 47,000 Duke Energy customers in Mecklenburg County without power, according to the Charlotte Observer.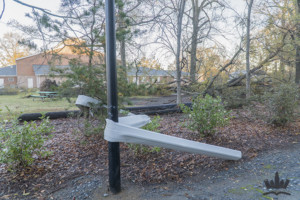 At around 6:40pm on December 1st, a tornado warning was sent out to multiple counties in the greater Charlotte region. About 10 minutes later, the tornado touched down in South-West Charlotte and caused damage to several homes and businesses in the Yorkmont area.
Most of what was reported included broken windows, uprooted trees, and power outages, see more pictures, videos, and more info about the 2016 Charlotte Tornado here.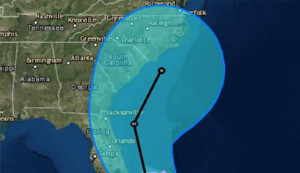 Hurricane Matthew, the most powerful Atlantic tropical storm in almost a decade, barreled across the east coast, with most of the damage being done to Florida and South Carolina. It officially made landfall in North Carolina on October 9th, its effects were felt as far inland as Asheville, with strong thunderstorms, winds, and heavy rains.
Find out more about Hurricane Matthew's path and landfall here.
A State of Emergency was declared for Charlotte after historic riots and looting swept through the streets of Uptown Charlotte on September 21st.
The riots erupted out of the initial protests following the shooting of Keith Lamont Scott
Watch a video of the 2016 Charlotte riots here.
Find out more about Keith Lamont Scott's shooting and the protests that followed here.
#2 Wildfires
As the drought lingered in the South East, wildfires soon began to pop up all over North Carolina, throughout the Blue Ridge mountains, and into the Piedmont of North Carolina.
On November 8th, evacuations began around Lake Lure (about an hour and a half west of Charlotte), and things only got worse from there.
Read more about North Carolina's 2016 wildfires here.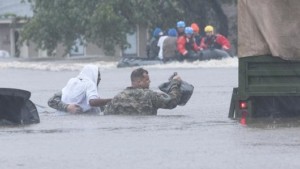 The flooding that crippled North Carolina came in the wake of Hurricane Matthew left at least 25 dead in North Carolina and caused upwards of $1.5 billion in damage to at least 100,000 homes, businesses and government buildings in the state, according to the Weather Channel.
There were over 2,300 emergency rescues since the flooding originally started. Find out more about the historic North Carolina flooding here.
Comments
comments