Safewise just released a new report looking at where the most shark attacks occurred in the US over the past decade. The company analyzed data from all shark attacks, both fatal and nonfatal, reported to Global Shark Attack File from 2010 to 2019.
North Carolina ranked #5 for shark attacks in the country with 32 shark attacks since 2010 and attacks are currently on the rise – there have already been at least three attacks reported since June 2019 (the biggest great white sharks in the Atlantic were recently spotted off the Carolina Coast).
South Carolina ranked #3 over the past decade, just behind California (in spite of California having 8 times the population).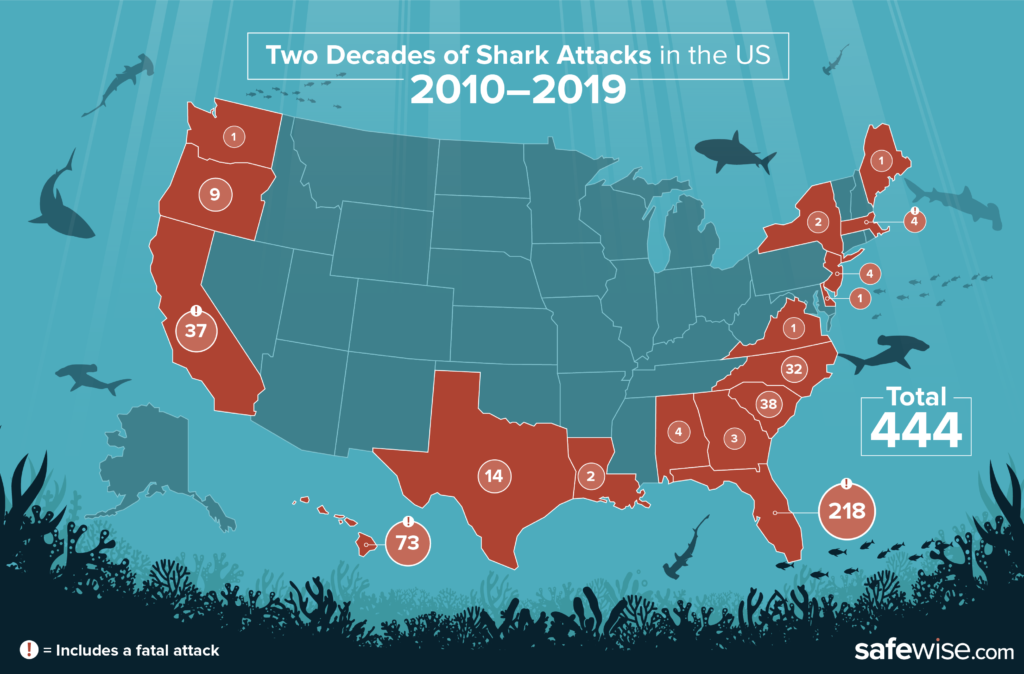 US Shark Attacks 2010–2019**
Florida*
218
Hawaii*
73
South Carolina
38
California*
37
North Carolina
32
Texas
14
Oregon
9
Alabama
4
Massachusetts *
4
New Jersey
4
Louisiana
2
Georgia
3
New York
2
Virginia
1
Delaware
1
Maine
1
Washington
1
Total
444
*Included at least one fatal attack. **This includes recorded attacks through June 2019.
If you plan on swimming near any North or South Carolina beaches, experts recommend taking extra precautions, including removing all shiny jewelry, wearing magnetic shark repellents, and avoiding colorful swimsuits.
Your risk will also increase if you swim at dusk or in the early hours of the night.
Comments
comments