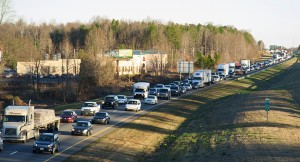 North Carolina Highway Patrol has just announced they will be joining the 'Thanksgiving I-40 Challenge' for 2020.
According to a press release from the American Automobile Association (AAA), the North Carolina State Highway Patrol will be peppering the major interstate during the Thanksgiving holiday.
Starting on Thursday, Nov. 26th, State Troopers will be placed every 20 miles along I-40 to monitor for speeding, DWIs, DUIs, occupant protection, and texting.
"Ninety percent of those traveling this Thanksgiving to visit with family and friends will be doing so with a road trip," said Tiffany Wright, AAA Carolinas Traffic Safety Foundation President. "The sheer volume of vehicles on the road make this holiday such a dangerous time to travel that's why we can't stress enough how important it is to practice safety behind the wheel. Buckle up, don't speed, never drive distracted or impaired."
I-40 is the third longest highway in America, stretching all the way from Wilmington, NC to Barstow, CA. It takes 37 hours to drive the entire 2,558 mile length (and about 854 hours to walk it);
Law enforcement agencies in all of the states I-40 touches have now committed to the campaign, including; Arizona, Arkansas, California, New Mexico, North Carolina, Oklahoma, Tennessee, and Texas.
The collaborative Interstate 40 Challenge has an overall goal of seeing zero traffic fatalities during the Thanksgiving holiday week.
Last year, the NC Highway Patrol reported the campaign as a success – 0 recorded traffic deaths on I-40.
Comments
comments