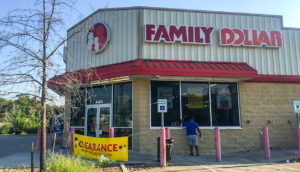 Family Dollar has just announced plans to close 390 stores across the country as part of a plan to correct its downward course.
The discount chain was purchased by Dollar Tree in 2015 for $8.5 billion in the hopes that the combined company would be better positioned to compete against their larger competitors Dollar General and Walmart.
The almost 400 new closings this year will be in addition to the more than 120 it closed last year. The parent company will also re-brand roughly 200 Family Dollar stores into Dollar Tree stores this year.
In a press release, Dollar Tree CEO Gary Philbin commented, "we are confident we are taking the appropriate steps to reposition our Family Dollar brand."
The company has not released the locations of which stores they will be closing.
There are currently 20 Family Dollar stores around the Charlotte region, with most of them being on Charlotte's West Side and in Gaston County;
Now parent company Dollar Tree recently closed the Family Dollar headquarters in Matthews, NC, consolidating the 700 jobs into the Dollar Tree headquarters in Chesapeake, VA.
Comments
comments