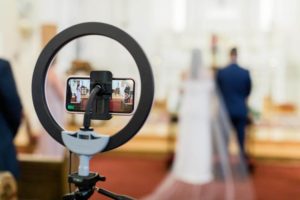 Just as there's a notable increase in the number of Hong Kong event spaces, so is life in Charlotte slowly returning to 'normalcy' as the government continues to ramp up vaccination efforts. Some notable places like Wet 'n Wild Emerald Pointe in Charlotte Greensboro will be opening to the public for the first time since the pandemic. 
With the relaxation of most of the Covid-19 related restrictions, the wedding industry is set to see an increase in the number of weddings and of course the number of people attending weddings. This is after Governor Cooper said the use of masks outdoors is no longer mandatory. Additionally, the number of people attending events indoors has increased to 100 with the outdoor limit being 200. 
More specifically, there's no limit to the number of people attending wedding ceremonies. However, if you wish to hold a wedding reception within meeting spaces, conference rooms and reception halls can host up to 30% of the capacity limit but should not exceed 250 people in any space. 
Here are three things you must take into consideration when planning for a summer wedding, 
The question is not whether or not you will find a suitable venue rather if you opt for an outdoor or indoor venue. While you can be easily tempted to think that an outdoor venue is the best choice because you won't have to worry about wearing masks, this is not always your reality. 
You might as well want to take other factors into consideration because while guests complete your day, it takes a lot of other things to have a perfect wedding day. Thus, you may want to talk to your wedding planner, photographer, caterer and other vendors involved to help you decide on what will work best. 
At the very least, you don't want to make a choice that is likely to ruin your look. Moreover, you also want to ensure that the venue you choose can hold the number of people you are expecting comfortably while emphasizing on the safety of your guests. Other factors you need to keep in mind include ease of access of the venue, lighting and insurance. 
Even with the lifting of the number of people you can invite to your wedding from just a handful to a little over a hundred or two hundred depending on your venue preference, it is still important to ensure that you decide on the number of people you're inviting to the wedding. Instead of assuming that you can't exceed the capacity, determine the number of people you'd like to attend and send out invitations. If you have been dreaming of having a big wedding and are sure most of the people you want to invite will come then you can go for a venue with a big capacity because you can't have guests exceeding a third of the total capacity. You may do well to scout for venues with a number in mind. Remember, there must be plenty of space because you're still required to observe social distancing. 
By all means, safety should be at the core of every wedding event. Mass gathering rules still apply to most establishments in Charlotte and NC in general. Therefore, guests must remain seated at all times except when entering or leaving the venue, wanting to use amenities, visiting the washroom or obtaining drink and food. 
Since you may not be able to personally enforce the regulations, let your wedding planner take up the role of a 'policing'. After all, your guests will only be comfortable if they see just how much willing you are to stick to the safety regulations. Some of the things you can do to ensure safety at the wedding venue include the following:
Offer guests free masks at the event entry

Let the DJ make regular announcements reminding your guests to keep their masks on if you are in an indoor venue

As the caterer to provide pre-plated meal as well as table service to limit movement of people and minimize contact

Set up enough sanitation stations. Be sure to provide sanitizers all through the venue.
The pandemic changed the way of doing things and it will take a while before we can go back to what we were used to as being normal. But before then, take advantage of the milestones we have already achieved in returning to normalcy and plan for a memorable day. Go ahead, have a wedding of your dreams.
Comments
comments