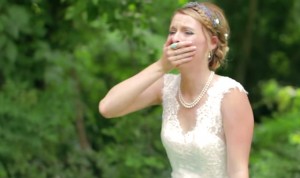 According to Wedding Report, as of April, 26% of engaged Americans have postponed their wedding because of the COVID-19 pandemic. Delaying a wedding can often impact other important life moments such as buying a house, combining finances and starting a family.
Charlotte-based Bustld, helps couples safely celebrate their wedding with family and friends around the world without postponing their wedding or their lives.
"We saw there was a need for a product that would bring family and friends together to celebrate without feeling like another virtual work meeting," said Samie Roberts, co-founder of Bustld. "LoveStream allows every guest to watch the ceremony and all the big moments from the comfort and safety of their couch, through a high-definition, high-quality livestream."
Roberts has seen the number of couples requesting virtual wedding ceremonies grow tremendously over the past two months.
"We've heard from many couples looking for creative options that will still allow their loved ones to participate in their special day," she said.
Each couple receives a custom link to host their own LoveStream experience and guests can submit comments and provide messages of support while watching the virtual ceremony.
"We wanted to provide a service to help couples plan the logistics of their virtual wedding from start to finish, ensuring every single person they love can be present for their wedding day," Roberts said.
Bustld can provide a 100% virtual wedding, or couples can do a small virtual ceremony and big celebration later or add a virtual component to a traditional wedding.
An online planning session, rehearsal and tech support are included with each package.
"Even though we've all had to make adjustments to our lives during these challenging times," Roberts said, "We really enjoy working with each couple to ensure their virtual wedding experience is as memorable and unique as the wedding day itself."
For more information on Bustld, visit https://hello.bustld.com, Facebook, Instagram, Pinterest or Twitter.
Comments
comments