There are a lot of things that make this city great – our weather, our distance to the mountains, ocean, lakes, and rivers, our diversity of residents, having big city amenities and a small city feel, but I think our true greatness lies in our patriotism.
In my opinion, no other city in this great nation even comes close to how patriotic we are.
Here are the top 12 reasons why I think Charlotte loves America the most:
#12 Freedom and Independence
Two of our primary traffic arteries were named after 2 of America's greatest qualities, Freedom Drive and Independence Blvd.
#11 Michael Jordan
Basketball is almost as American as Baseball, and Michael Jordan is the most iconic basketball figure in history.
During the height of his career, he dominated the courts around the world, representing our country a record 8 times on team USA in the Olympics.
Michael Jordan was born and raised in North Carolina. He now lives in Charlotte and owns the majority stake in the greatest basketball team in America, the Charlotte Hornets.
#10 Lowes Is Headquartered In The Charlotte Region
Home Improvement is starting to become as American as baseball and apple pie – it embodies our 'can-do-it' attitude and self-reliance.
The headquarters of one of the largest home improvement chains in America is located right here in Mooresville.
#9 Billy Graham is from Charlotte
The most well-know evangelist of all time was born and raised in the Queen City.
Reverend Graham was also nicknamed the 'Pastor to The Presidents', having personally met with and counseled every single U.S. President since World War II.
#8 NASCAR
There aren't many things more American than racing loud V-8s covered in advertising.
Approximately 75% of all NASCAR teams are headquartered within two hours of uptown Charlotte, and we're also home to the NASCAR Hall of Fame.
#7 Charlotte Ranked By Foursquare As Top Patriotic City
The social media site Foursquare analyzed the activity from millions of Americans on July 4, 2012 to see which city had the highest percentage of its citizens visiting parks, parades, and fireworks celebrations on Independence Day. Charlotte was found to have the #9 most patriotic residents in the country.
#6 Bank of America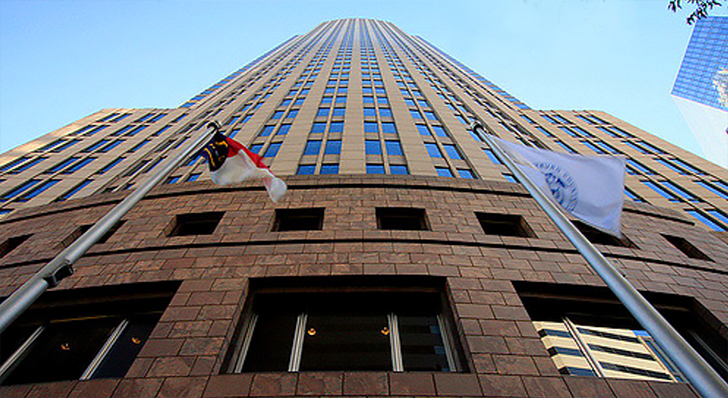 We are home to THE Bank of America. Literally, America's bank is headquartered right here in the Queen City.
#5 We Have The Largest Flying American Flag In The World
The largest flying American flag in the world measures a total of 7,410 square feet and is a hung on a pole that stands over 225 feet in the air.
It was initially erected at the foot of Crowder's Mountain by the Gastonia AMVETS Post 920 in 1999:
#4 Charlotte Ranked By Amazon As Top Patriotic City
Back in 2014, Amazon analyzed it's American flag sales in cities with over 400,000 residents. Charlotte residents bought the 7th highest number of American flags in Amazon's Patio, Lawn, and Garden section.
#3 We Discovered The First Gold In America
The Charlotte region saw the first authenticated gold discovery in America in 1799 (the entire reason many Europeans came here in the first place) at John Reed's Gold Mine in Cabarrus County.
For 50 years, the Charlotte region led the nation in gold production until the California Gold Rush of 1848.
#2 NC Ranked #3 Most Patriotic State – SC Ranked #1
The real estate website Movoto recently ranked the patriotism of every state in America based on the following criteria;
National Historic Landmarks per Capita
Veterans per Capita
Money Spent to Fund Veterans
Percent of Residents That Voted in the Last Presidential Election
People Who Google For American Flags to buy
People Who List America as an Interest on Facebook
The Tar Heel state came in at #3 and the Palmetto state came in first place, and since the greater Charlotte region includes a big chunk of South Carolina, we can claim their patriotic ranking as well.
#1 First In Freedom
On Friday, May 19th, 1775, as they were meeting in the courthouse at Trade and Tryon St, an express rider gave news that British soldiers had shot and killed fellow British citizens in the battles of Lexington and Concord. They then wrote five resolutions that now make up 'The Mecklenburg Declaration of Independence', declaring that they had separated themselves from Great Britain.
We were free from England's tyranny an entire year before the country signed the Declaration of Independence in 1776 – we showed them how it's done. What's more patriotic than freedom?
Why do you think Charlotte is the most patriotic city in America? 
Comments
comments