According to sources with the Wall Street Journal, RNC officials are now finalizing plans to bring the massive convention to the Queen City in 2020.
"Republicans familiar with the site-selection process said party officials have moved away from Las Vegas as the convention site and settled on North Carolina's most populous city as the top choice," the Journal noted.
Charlotte leaders are now divided on hosting the largest gatherings of Republicans in the nation.
Council member Braxton Winston recently posted a video to his Facebook page addressing the major concerns;
Charlotte's Democrat Mayor Vi Lyles, however, posted her approval for Charlotte hosting the RNC in a recent editorial piece in the Observer;
"If our city were selected to host the 2020 RNC, we would plan for an inclusive experience representative of what we know and love about Charlotte.
While our country is at a tipping point of incivility, Charlotte is a place where we value diverse experiences and inclusive dialogue. The current political climate, with its divisive rhetoric and harmful policies, does not represent my values or the values of most Charlotteans. But if Charlotte is the site for the RNC, we can show that our city is about inclusion and leverage it as an opportunity to demonstrate our values of respect while honoring our differences," Lyles commented.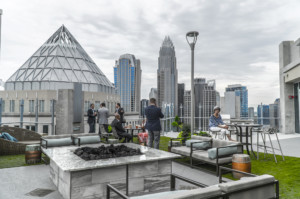 The City of Charlotte originally submitted their bid to host the 2020 Republican National Convention back in May.
"We're incredibly grateful for the support and assistance of our many City of Charlotte partners, hotels, venues and others who helped to craft this thorough response on behalf of our region," commented CRVA CEO Tom Murray.
The convention would be a huge economic boost for our city, considering that the Democratic National Convention that we hosted in 2012 had an estimated economic impact of over $163 million.
The city council is now scheduled to meet this coming Monday to vote on whether or not they will accept $50 million in federal money for the convention.
The GOP will make their final site selection announcement next week during their summer meeting in Austin, TX.
What are your thoughts on Charlotte hosting the RNC?
Comments
comments