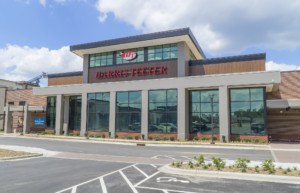 The grocery wars are continuing to heat up, not only here in Charlotte, but also on a national level as discount stores like Aldi and Lidl go head-to-head against premium grocers like Publix and Harris Teeter.
Market Force Information recently took a poll of over 12,000 shoppers across the country to discover which is now America's favorite and Matthews-based Harris Teeter ranked among the top 10.
According to a representative from the company, they polled shoppers about "their grocery shopping habits including brand preference, customer experience, brand engagement and brand awareness."
Wegman's ranked #1 in the country with their "fresh produce, reasonable prices and massive stores", and Publix came in a close second;
Congratulations are in order to @Wegmans, @Publix and @TraderJoesList for staying on top of the composite loyalty index in the 2018 US Grocery Benchmark Study with fiercely competitive scores. pic.twitter.com/wVEe434jkv

— Market Force (@MarketForce) June 14, 2018
Wegmans currently has 97 locations in the North East and they're now planning on expanding into North Carolina with 4 new locations around the Raleigh region;
Who do you think the best grocer in America is?
Comments
comments