Now that Charlotte will be officially colder than Alaska for the next week or so thanks to a freak artic cold front, many Charlotteans are getting creative with how to entertain themselves…and their kids.
Without any precipitation expected all week, snow-making seems to be at the top of many people's lists.
It won't be cold enough to make snow by throwing boiling water in the air (it needs to be −30 °F or colder for that to work), and simply spraying your garden hose in the air will just make sleet or freezing rain.
To make real snow, you'll need to make your own snowgun, using the following items (via Wikihow.com);
Air compressor
Pressure washer
1/4" cap – 1
1/4" NPT Tee – 1
1/4"close hex nipple – 1
1/4" x 2" pipe nipple – 4
1/4″ Female Ball or Gate Valve – 2
Female garden hose adapter – 1
If all the fittings 1/4" NPT fittings they will fit together snuggly. They should be assembled in the following order;
Screw the cap onto one end of the hex nipple.
Connect one of the vertical ends of the Tee to the other end of the nipple.
On the other end of the Tee (directly across from the hex nipple), connect the 2" nipple. This should leave one smooth side on the Tee, and one remaining opening.
Connect one gate or ball valve to the other end of the 2" nipple. On the other side of the valve, connect the other 2" nipple.
On the remaining opening of the Tee, connect a 2" nipple. Next, the other valve should be attached. On the other side of the ball valve, attach the last 2" nipple.
Finally, the female garden hose adapter should be attached to end of the 2" nipple.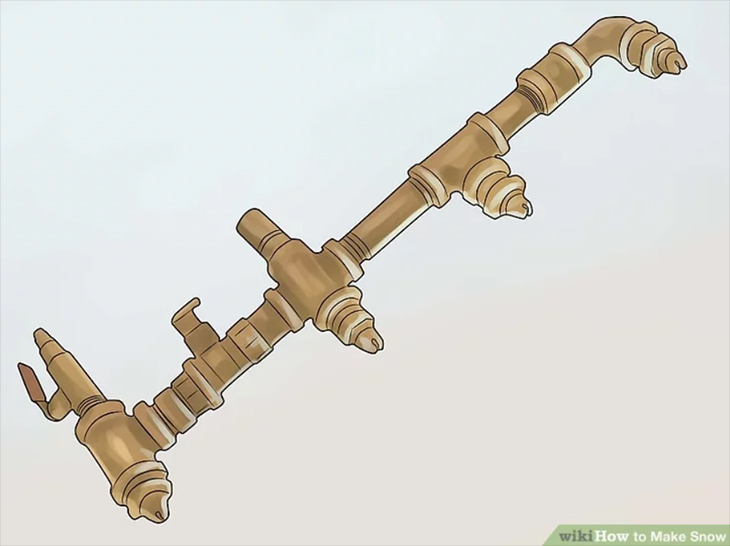 Connect the pressure washer to the female garden hose adapter and connect the air compressor to the 2″ nipple.
Then install your snowmaker onto a large pole or stand at least 6 feet in the air.
Tips:
The air compressor should be able to pump 8 CFM at 40 PSI or 6-7 CFM at 90 PSI. You can find this on the side of your air compressor. Turn on your water. The air and water pressure should stay around 40-50 PSI.
Don't let your air pressure get higher than your water pressure.
Charlotte Meteorologist Brad Panovich build one of these snowmakers a few years back and today he's been giving it a run for its money;
Have you tried to make snow in your backyard?
Let us know how it went in the comments below!
Comments
comments