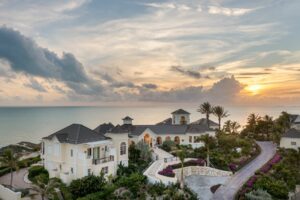 A Gastonia native is now renting out his Caribbean vacation home out for upwards of $36,000 per night (about what you could buy an entire house for in Charlotte a few years ago).
319 Capital Partners CEO Tom Barnes recently began renting out his private Turks and Caicos island (formerly owned by music icon Prince) that he purchased back in 2019 for a cool $10.8 million. The nightly rental rates range between $12,000 and $36,000, depending on the time of year of your stay and how soon you want to book.
According to the island's website, Emara.tc, guests "will be accommodated with a personal chef and butlers to tend to your every need. Take a ride on a paddleboard, snorkel in our bays, or relax on our beautiful white sand. The estate also comes with a 200+ ft. dock for your yacht, chartered boat, or jet skis."
View this post on Instagram
The Charlotte Observer notes that Tom Barnes grew up in Gastonia and attended and graduated from East Gaston High in 1986.
If you'd like to get away for the weekend, you can book your stay here.
Comments
comments