All of the following homes are currently listed for sale by NC licensed Realtors on the Carolina MLS, they are all located in the city of Charlotte. Prices and features taken from the Carolina MLS.
Yes, you can buy a home for under $40k, or you can buy all 5!
#1 North-West Palace – Asking $39,900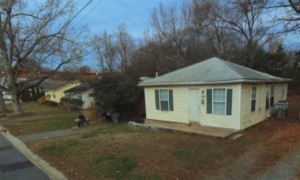 This beauty is under 2 miles from Center City – this 3 bedroom ranch home is, without a doubt, one of the best deals in the history of the Queen City.
It features central air conditioning, gas-powered hot air, and a gravel-lined crawl space.
Original construction dates back to 1937, the same year that Leon Trotsky and his wife went to stay with Diego Rivera and Frida Kahlo in Mexico.
Pets are allowed.
An abundance of mature trees in the back yard provide shade and fresh oxygen.
#2 West-Side Cottage – Asking $39,900
Are you in the market for something a little more 'cottagish'? Well, this isn't technically a cottage, but it kinda looks like one, right?
It also has 3 bedrooms and 1 bath, and features 924 sprawling square feet and wall-to-wall carpet.
It was built in 1941, back when Orson Welles' first feature-length film, Citizen Kane, was released.
The water and sewage pipes connect directly to the city, so you won't have to worry about any hand-pumps or outhouses.
#3 North-Side Brick Estate – Asking $35,000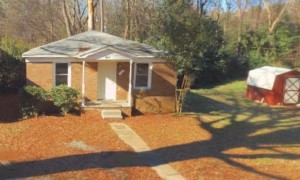 Ever thought about buying a home for less than a car? Given that many sellers in Charlotte have been known to take less than asking price for house sales, this might even cost less than a used car.
A stone's throw from both the i85 and i77 on-ramps, this beauty couldn't be any more convenient. It sits about 1 1/2 miles from Uptown and about 10 miles from Lake Norman – luxury living at it's finest.
The home was built in 1962, the same year that David Bowie was punched in the eye over a girl at the age of 15, doctors had to perform surgery so he would not go blind, his right pupil was made permanently larger than his left as a result of the surgery.
The refrigerator has a state-of-the-art ice maker connection. It has 708 square feet w/ 2 bedrooms and at least 1 bathroom.
#4 West-Side Retreat – Asking $30,000
This Charlotte home has a tax value of $72,800, 1,264 square feet, and 3 bedrooms with 1 bath.
You'll also get a monstrous .19 acres of potentially gold-rich dirt!
It was built in 1933, the year Wiley Post became the first person to fly around the world alone, the year that Adolf Hitler became the Chancellor of Germany, and the same year that Franklin D. Roosevelt became the 32nd president of the United States.
The best part about this home is that it is within walking distance to Uptown Charlotte, well, as long as you don't mind walking a mile.
#5 Carolina Golf Club Home – Asking $29,900
This sprawling 2 bed 1 bath home has 620 square feet of living goodness.
The massive .30 acre lot backs directly up to the Carolina Golf Club, so in your spare time, you can search for golf balls in your back yard.
This Charlotte house was built in 1950, the same year that Stevie Wonder was born
The floors glisten with rich vinyl in the kitchen and bathroom, and the living room and bedrooms feature lush wall-to-wall carpet.
If you'd like to see the inside of these homes, or submit an offer – Evergreen Real Estate wants to help!
Please fill out this form to have a Charlotte Realtor contact you;
Please share;
[one_third]


[/one_third] [one_third]


[/one_third] [one_third_last]


[/one_third_last]
Comments
comments