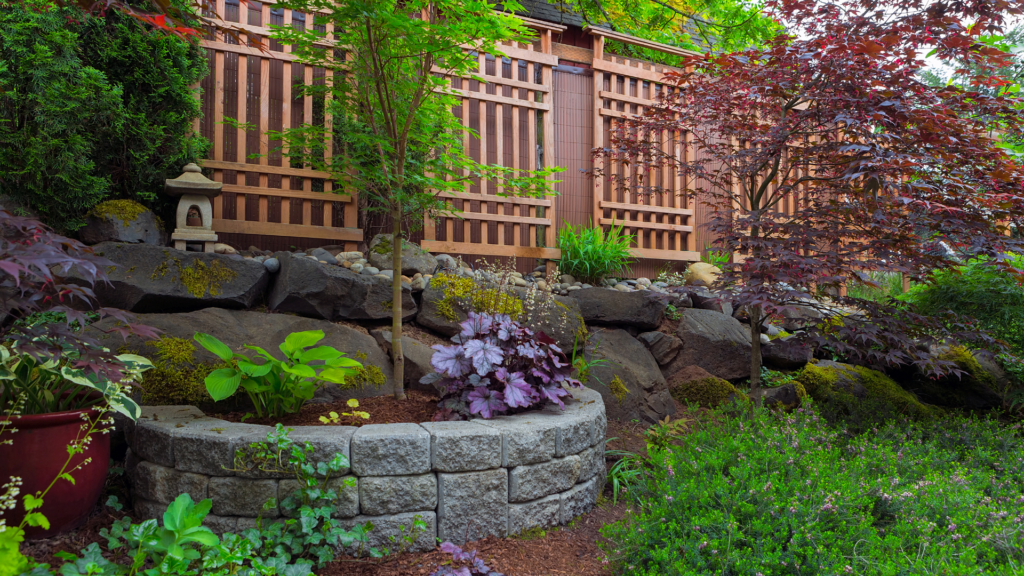 When it comes to redesigning your North Carolina home, one of the smartest things you can do is consider decorative landscaping stones. Between their durability, variation, and utility, landscaping stones are guaranteed to enhance the southern look and feel of your home. 
In this article, we will explore how decorative landscaping stones can be used and what projects they are best suited for. Hopefully, after you finish reading this article, you have learned just how your home in the tar heel state can benefit from these beautiful stones.
What Are Decorative Landscaping Stones?
For thousands of years, stone has been a valuable building material. It is solid, strong, and durable, yet at the same time can be stacked, carved, and shaped. That is why stone is such a premier landscaping material to this day. 
Decorative landscaping stones are time-tested hardscape materials that can be used to accent your property, construct landscape features, manage problem areas, etc. Landscaping stones are available in a range of sizes, textures, and colors. The versatility of these stones allows them to be suitable for a variety of projects. That versatility aspect is especially apparent here in North Carolina.
In this state, we have access to native granite, limestone, marble, sandstone, and slate, among many other stones. Given this variety of materials, you'll have no problem finding a suitable North Carolina decorative stone that fits your home's aesthetic perfectly, no matter the project. 
Still, what you'll find is that the most marketable properties in North Carolina are colonial, cottage, historic, brownstone, and modern-styled homes. And what all these styles have in common is that river rock is a leading choice when deciding on decorative landscaping stones. River rock tends to be the most popular choice because it comes in a variety of sizes that can be used for a multitude of projects, such as New England river rock. Between its rounded shape and variation of colors, river rock can match the aesthetic of almost any style home in North Carolina.
Uses for Landscaping Stones
Retaining Walls
Retaining walls not only add to the appeal of your property but they also have a very real and very important function as well. Retaining walls not only look phenomenal when done properly but are also necessary for curtailing erosion on your property. They are required for slopes and structural support, as they use footings to hold a wall in place and better retain the soil. 
Decorative landscaping stones are the ideal material for the construction of retaining walls. Landscaping stones can create tiered walls which can hold back soil, preventing landslides and keeping the yard leveled. Because these materials are heavy and stable, they are capable of supporting a massive amount of weight. 
Moreover, when it comes to building retaining walls, we do recommend you keep in mind that it may be beneficial and even necessary to enlist the help of a professional. It is vital that these structures hold and don't budge, so an expert's assistance may be key.
Patio / Fire Pit
Patios offer a nice place of relaxation where you can put your feet up after a long day and enjoy the beautiful North Carolina weather. These outdoor living spaces can also be a space where you gather with your friends and family! 
However, believe it or not, decorative landscaping stones can totally improve this space. Not only do these landscape materials increase the aesthetic appeal of your home, but they also drive up the curb appeal and market value of your North Carolina property. Patio flooring can be made with stone slabs, pavers, or even gravel depending on the style and texture you want your patio to have.
Moreover, a fire pit serves as an outside, entertainment-friendly space even during the cooler, winter Carolina months. Just picture yourself gathered with your friends and family around the fire, roasting marshmallows and enjoying the evening. 
To construct a proper fire pit, you'll need, you guessed it, landscaping stones! You can use bare ground as a base for a fire pit but ultimately it can create a muddy mess when the ash mixes with dirt and it gets wet. That's why lava rock is what is typically recommended to be used as the base. Not only is lava rock aesthetically pleasing, but it is an incredibly efficient material. Lava rock is heat resistant and will not decay. Gravel is, also, an excellent decorative landscaping material for fire pits. 
Pathways / Walkways
An outside pathway is an excellent way to keep people off your grass and out of your flowerbeds. These walkways are crafted using a variety of landscaping stones. In fact, many North Carolina homes have walkways carved out of stone and even utilize crushed stone instead of traditional veneer walkways.
When it comes to outside walkways, river rock is yet again an extremely popular option when it comes to decorative landscaping stones. If you want to have a more traditional and historic style home, river rock is perfect. Crushed river rock adds a certain southern charm to your property. 
Still, aside from river rock, there are other decorative landscaping stones that are just as effective for walkways. For example, the flatness and durability of flagstone make it a great option for areas with high foot traffic. Additionally, wallstone is an excellent material for carving out landscapes. Many homes in North Carolina have grand entrances carved out with wallstone, creating a beautiful walkway. Really, when it comes to walkway stones, you have a ton of favorable options.
Gardens
Decorative landscaping stones are quite ideal as accents and colorful pieces for yards. A lot of these stones possess swirling patterns and other colors that give them a beautiful and unique look, adding to the overall appeal of the yard. They will naturally blend in with your garden while still enhancing the overall aesthetic. 
Aside from the outward appeal, decorative landscaping stones have many advantages over other mulch materials. Landscaping stones tend to be more affordable compared to other materials. They also require less maintenance, and they won't degrade over time.
Benefits of Using Landscaping Stones
Improves Drainage
The terrain of North Carolina is among the wettest in the country as many areas are prone to standing water. Fortunately, many drainage solutions utilize landscaping stones, such as dry creeks and French drains. 
Using decorative stone in drainage projects can keep your property water-free. River rocks, in particular, are made for dry creek beds. These rocks create a natural-looking landscape feature but still maintain a practical function. Dry creek beds collect excess surface water and channel it down to another place where it won't be a problem for you.
Easy Maintenance
Decorative landscape stones tend to be low-maintenance materials. You can easily keep them clean from debris by sweeping them or spraying them down with water. They don't need extensive care. 
 In fact, harsh chemical cleaners can actually bleach or damage your stone. So, you never really need anything stronger than soap and water. So whereas with other aspects of your yard you might need to find lawn care professional, you can save your money and your time and maintain your landscaping stones on your own.. North Carolina also rarely experiences snow, so you won't have to deal with pulling up stones plowing or shoveling.
Weather Resistant
The weather in North Carolina can at times be unpredictable. The climate here is not always consistent but fortunately, this will not affect your landscaping stones. They are the perfect materials to withstand extreme changes in weather. Natural stones possess the strength and durability to resist wear and tear, especially in a climate such as North Carolina's.
Simple Installation
Most landscaping projects do not require significant excavations. Typically, you only need to dig a shallow space before you start to lay your stones down. A few centimeters will usually work unless you are installing a drain or constructing a wall.
Get Started on Your Project Today!
Now's the time to start thinking about what kind of landscaping project your home may be in need of. You may decide to build a garden wall, construct a fire pit, or lay down a patterned driveway – the possibilities can go on. Once you know what project you would like to pursue, you can refer back to our guide to start to figure out what decorative landscaping stones are best suited for the job!
Comments
comments