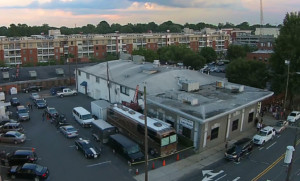 Great news for Charlotte's local music scene – one of our most historic venues has just been revived – Amos' Southend
The historic music venue originally closed after the parking lot across the street was sold and set to be redeveloped. Owner John Ellison felt that there wouldn't be enough parking for a venue the size of Amos' Southend to continue to pack out shows.
The news came as a shock to local music fans, as Amos' frequently hosted legendary acts from more unique genres around the world.
We made this tribute video when the venue closed, showing some of the biggest acts they brought to Charlotte;
Now, 2 years later, Ellison is opening a smaller version of Amos' which will hold 600 people, as opposed to the prior Amos', which held around 1,300 people. He is hoping the new RailYard development across the street, increased light rail usage, and decreased capacity will make up for the loss of the parking lot.
Ellison can also offset much of the building's costs with his upgraded Gin Mill bar and restaurant, which now includes a large chunk of the old Amos venue, with a full bar, restaurant, a small stage.
The smaller new Amos' Southend venue officially reopened this past Tuesday night with a lively performance by the Black Queens. Tonight the Killakoi will take the stage and Sunday night the space will host the band 'Nothing'.
They now have shows scheduled through this coming December. You can check out all the upcoming shows and buy tickets here.
Comments
comments