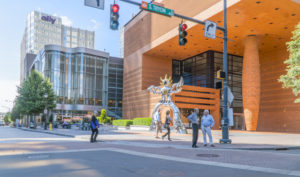 Climate change is having a profound impact on communities across the United States. From more frequent and severe weather events to rising sea levels and extended droughts, Americans are feeling the effects of a changing climate in myriad ways. As a result, many people will increasingly start to seek out new places to call home in order to escape these effects and live in areas that are less vulnerable to the impacts of climate change.
In recent years, there has been a growing trend of Americans moving to towns and cities that are perceived to be more resilient to the effects of climate change. These places may have lower risk of flooding, less severe weather patterns, and more sustainable infrastructure in place to adapt to changing conditions.
QuestionPro surveyed 3,000 Americans to find out their likeliest destination if they felt they had to leave where they live because of climate change. The poll took into account the practicality of moving to each destination, including work and lifestyle factors. For example, while Alma (Colorado) has an elevation of 10,578 feet and therefore might be considered to be a good destination to escape flooding and hurricanes, it only has a population of 238 residents, and so moving there is not realistic for the majority of people.
Denver (CO) emerged as the top destination to move to. This could be due to several factors, including Denver's geography, which makes it less susceptible to flooding and storm surge. Additionally, the city has set ambitious targets for reducing greenhouse gas emissions and invested in public transportation and other initiatives to reduce reliance on cars. Also, Denver's quality of life and thriving economy are also major draws.
Charlotte came in at number 5 overall. Some of the factors that make Charlotte attractive to climate migrants include its location, infrastructure, and economic opportunities. While the city experiences some extreme weather events, such as hurricanes and heavy rain, it is not as vulnerable to these risks as coastal areas. In recent years, Charlotte has invested in infrastructure to improve its resilience to climate change. This includes upgrading stormwater systems, building green infrastructure, and promoting sustainable development practices. The city has also set a goal to reduce greenhouse gas emissions by 70% by 2030. Additionally, Charlotte's economic opportunities make it an attractive destination for people seeking a new place to call home. The city is home to several major companies, including Bank of America and Lowe's, and has a thriving financial and tech sector. Charlotte also has a relatively low cost of living compared to other major cities in the U.S.
Comments
comments