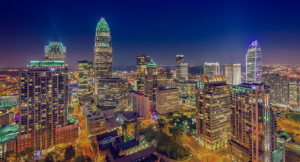 The Queen City has lost its title of the #2 largest banking center in the country.
According to a new report by S&P Global Market Intelligence, we are now ranked as the third largest, behind New York City and San Francisco.
According to the report, Charlotte now has 16 banks with a total of $2.27 trillion of assets, compared with San Francisco's 26 banks with $2.28 trillion of assets, and New York's 100+ with over $8.45 trillion in assets.
Charlotte is certainly still a major US banking center, and although we are now in 3rd place, we have over 4x the asset of the 4th and 5th place cities of Minneapolis and Chicago.
Charlotte city leaders have also spent the past decade trying to expand our identity past just a bank town, and with much success to-date. We're now home to one of the fastest growing start-up and tech scenes on the east coast, and we're continuing to grow our workforces in transportation, manufacturing, medical, and advertising as well.
What do you think Charlotte's identity will be 10 years from now? 
Comments
comments