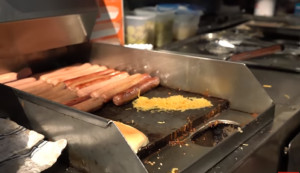 The chef at Uptown Charlotte's most popular food cart and star of last year's hilarious Panther birdstew videos (Seahawks and Cardinals) was recently ranked by Yelp as making the best hot dog in America.
The restaurant-ranking website analyzed all their user reviews for hot dogs to determine what restaurant cooks up the best dog in the country.
Vic the Chiliman came in first, topping Yoyo's Hot Dog in Houston, Texas (#2) and The International House Of Hot Dogs in Anchorage, Alaska (#3).
According to Yelp, "This is a one-man-show hot dog cart is popular amongst locals for their unlimited toppings, "designer" taco sauce, and unique menu items like the Naco-Dog (part dog, part nacho, part taco). The Life Changer was voted no. 1 hot dog on the planet by Vic, the jovial owner.
Yelper Insight: Chili Man even offers vegan chili Wednesdays complete with vegan hot dogs, so no excuses to miss out, veg heads."
Vic The Chiliman was also recently ranked as having the best hot dog in Charlotte, and the best overall restaurant in Charlotte (by user reviews on Yelp).
Charlotte Stories recently went Uptown to film Vic's epic 'opening day' experience (thanks to EndZoneFans for filming);
Not only does Vic make some of the greatest hot dogs in the world, he has also started an incredible charity here in Charlotte to help out families with special needs children.
You can follow Vic on his Facebook page here to find out about his hours and daily dog specials.
Comments
comments