Gabe and Luke are both six years old and both have Spina Bifida. They both require extremely expensive treatments that are out of pocket for their families.
'Shred for Gabe, Luke, and The Sariches' has turned into one of Charlotte's largest Charity Art Auctions – starting just two years ago with little more than a good idea from Charlotte's very own 'Vic The Chiliman'
Students from Piedmont Middle school, and the Myers Park High School National Honors Art Society have been working for months to paint Skateboard decks, paintings, and other works of art to auction off this weekend. (Check out their Facebook page for tons more pictures)
The event will continue to support Gabe Ospina and Luke Rainwater who were both born with spina bifida, and this year they will be adding the Sarich family – this incredible family has already adopted several children from around the world with special needs.
Taras Sarich is a single mom who has taken it upon herself to help children in need in the most unbelievable way. Her newest adoptee is about to come from China, with numerous leg and hand deformities that will need to be corrected.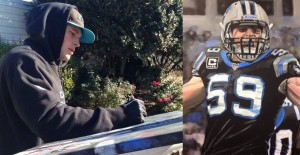 This year, the Ospina family, the Rainwater family, and the Sarich family will each receive 1/3 of all the money collected to help with their medical expenses.
The event this weekend event will feature food from Matt Hughes (Fat and Chili Catering) and Jonathan Farnham (Jon Farnham Catering), DJ Festivus with incredible music and DGing skills. Over 100 (expected) pieces of art to be (silent) auctioned off to the highest bidder. A live auction will starts at 3:45pm to auction off some of the bigger pieces, including an autographed and painted skate deck of Cam Newton, and an signed painting of Luke Kuechly.
There will also be a local artisan vendor village, and a massive raffle with hundreds of prizes, as well as on-site live art by John "Frogboy" Burgin – and tons more.
It will be held at the Unknown Brewery – 1327 S Mint St, Charlotte, North Carolina 28203 on Saturday, January 30th from 1pm – 7pm
Please come and please tell your friends!
Comments
comments