Gaston County's largest healthcare provider, CaroMont Health, announced plans to dump over $325 million into new facilities throughout Gaston County over the next 5 years.
The massive capital investment will be the largest single capital expenditure by an employer in Gaston County's history, and one of the largest healthcare undertakings in our region. The plans include a new main campus tower, facilities in Cramerton and Bessemer City, and a new full-scale hospital in Belmont.
According to a press release by CaroMont Health, the new CaroMont Regional Medical Center-Belmont will feature a state-of-the-art emergency department, inpatient units for patients requiring admission or observation, a labor and delivery unit, and a full complement of diagnostic services including laboratory and imaging.
"CaroMont Health has provided life-changing and life-saving medical care to the citizens of Gaston County for nearly 75 years," said Chris Peek, President and Chief Executive Officer at CaroMont Health. "This investment is a reflection of our unwavering commitment to this community and the thousands of patients who trust us to care for them."
The new hospital will be built near the intersection of Highway 273 and I-85 next to Belmont Abbey College. The property is owned by the Belmont Abbey (who also own the college, the land under Belmont's Walmart and Lowes, and several other properties around the area). The hospital plans to enter into a long-term lease and partner with Belmont Abbey to develop a new health sciences program at the college.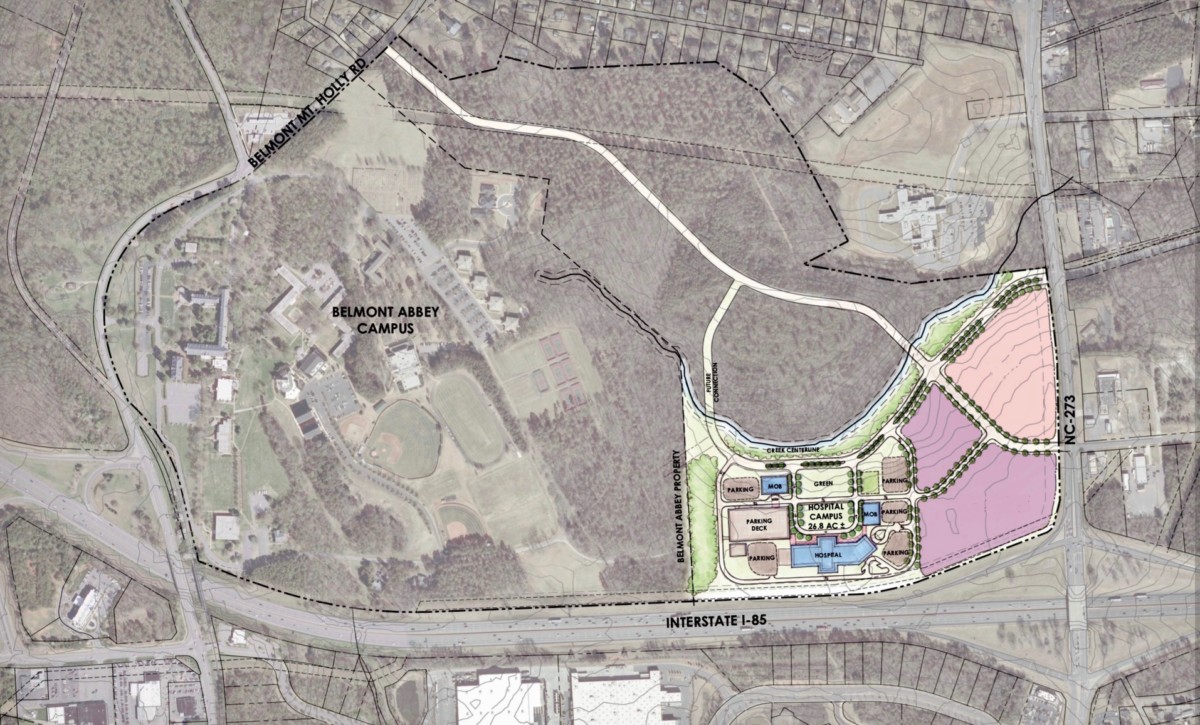 "Belmont Abbey College exemplifies the true spirit of our community – one of progress, integrity, excellence and virtue – and shares many of our core values," said Peek. "Much like healthcare, education has the unique ability to enrich and support not only the recipient, but also all who surround them. A highly regarded institution like Belmont Abbey, focused on the advancement of others, strengthens our community. We are proud to be part of such a historic moment."
The leaders of Belmont Abbey are also excited for the new partnership to develop.
"The monks of Belmont Abbey happily welcome this exciting opportunity for Belmont Abbey College and CaroMont Health to combine our shared values and cooperate in promoting the welfare of our Gaston County community and its future growth and prosperity," said Abbot Placid Solari, O.S.B., of the Belmont Abbey monastic community.
In addition to the new Belmont Hospital, CaroMont will also be adding a new tower to their existing hospital in Gastonia, which will add 50 additional patient rooms to the complex.
They also plan to build a 22,000-square-foot family medicine practice in Cramerton, and a new family medicine practice in Bessemer City.
Comments
comments