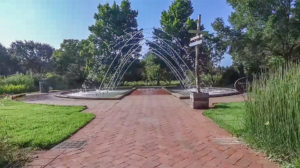 Daniel Stowe Botanical Garden, which celebrated its 20th anniversary last year, is closing to the general public indefinitely, Garden officials announced today. The Garden reduced its workforce to those required for minimal maintenance and to keep in place nominal operations.
"Over the last several weeks, Daniel Stowe Botanical Garden has experienced financial difficulties due to responses to the COVID-19 pandemic. We have explored many options, but unfortunately, to ensure the Garden remains a viable community asset that continues to instill a love of nature and its beauty in the future, we have made the painful decision to reduce our workforce," said Executive Director Patrick Larkin. "We hope to reopen again in the when the situation turns around. Our leadership and Board of Directors is working on a way forward with the rapidly changing circumstances."
The Garden's staff of 52 has now been reduced to nine people.
In any other year at this time, Garden staff would be welcoming school groups and adult learners, planting annuals for spring and summer, and preparing for numerous events. All that has been put on hold as a result of the Covid-19 pandemic.
The Garden had been making plans to open its popular Chinese Lantern Festival at the end of August, but it now appears it will have to be delayed. Garden officials said that production of the show takes about six months, so it is working with the show's producer to set a new date. Those who have purchased tickets can reschedule those tickets after a new date is set.
The late Daniel J. Stowe began to develop the Garden in southeastern Gaston County in the early 1990s, setting aside land he began acquiring before World War II. In 1999 the Garden opened its immaculate Visitor Pavilion and a dozen acres of manicured Gardens. By 2003 it had become one of the region's most popular wedding venues, hosting nearly 100 weddings each year. In 2008, the Garden opened its 8,000-square-foot Orchid Conservatory and in 2014 Lost Hollow: The Kimbrell Children's Garden. The Garden attracts more than 100,000 people annually.
Comments
comments