Winter Storm Izzy, which is currently dumping significant snowfall in the upper Midwest, is now forecast to plow straight through the Charlotte region.
The storm is expected to bring over a foot of snow to the mountains and potentially crippling ice accumulations around the Charlotte region.
The National Weather Service sent out the following alert for our region this morning for Iredell, Davie, Catawba, Rowan, Cleveland, Lincoln, Gaston, Mecklenburg, Cabarrus, and Union Counties:
URGENT - WINTER WEATHER MESSAGE
National Weather Service Greenville-Spartanburg SC
441 AM EST Fri Jan 14 2022

...WINTER STORM WATCH REMAINS IN EFFECT FROM LATE SATURDAY NIGHT
THROUGH SUNDAY EVENING...

* WHEN...From late Saturday night through Sunday evening.

* IMPACTS...Travel could be nearly impossible across the entire
  area. At least scattered power outages and tree damage are
  likely across the Piedmont due to the ice as well as gusty
  winds.

* ADDITIONAL DETAILS...Precipitation will begin Saturday evening
  and will gradually change over to a wintry mix across much of
  the region Sunday morning, although mainly snow is expected
  across the North Carolina foothills. A mix of all precipitation
  types is expected closer to the I-85 corridor, while mostly
  freezing rain is forecast for areas southeast of I-85. The
  precipitation should taper off Sunday afternoon and evening,
  perhaps as a period of light snow. Black ice could be a problem
  each morning early next week. Later guidance may affect
  precipitation types and amounts, and when a Warning would be
  issued.
According to The Weather Channel's National Winter Storm Izzy forecast, "major travel disruption is likely" in the south, "and it could last into at least Monday morning, given forecast lows below freezing into the Deep South. If you have travel plans in these areas, you should consider canceling or moving them."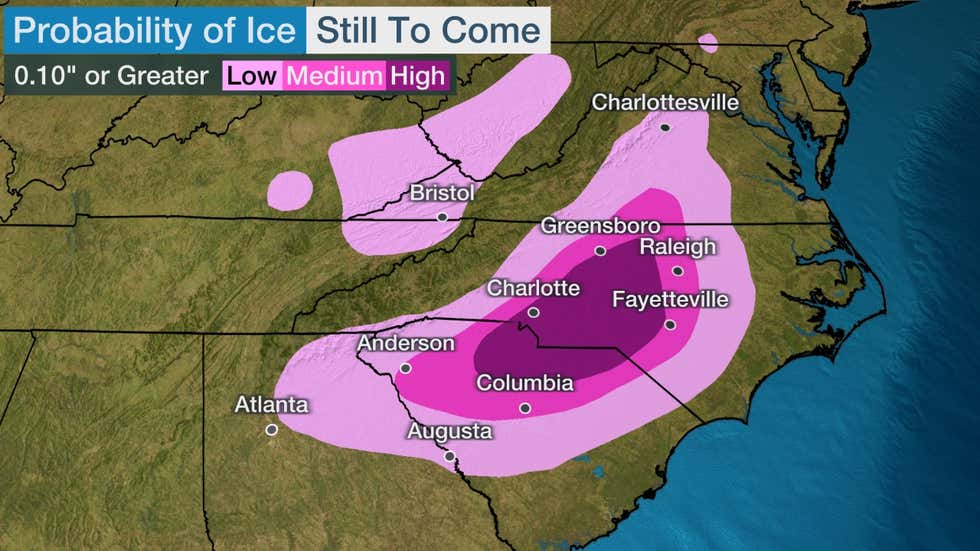 The National Weather Service is now forecasting over .3 inches of ice accumulation for the Charlotte region:
According to The Weather Channel, if we receive the forecasted amount of around .3 – .4 inches, the storm will likely only be 'disruptive', but if we get a little more than forecasted, we could enter the 'crippling' territory:
"With widespread ice accumulations of over 1/2 inch, there is severe tree damage and power outages may last for days," the Weather Channel notes.
North Carolina Emergency Management officials are now urging all residents to: 
Please help spread the word! 
Comments
comments