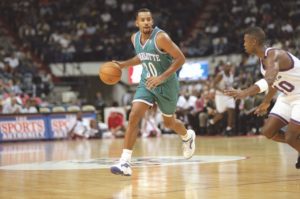 The franchise might not boast the most well stocked trophy cabinet but that doesn't mean they haven't had talent in their ranks over the years. 
Here we take a look at the best Charlotte Hornets of all time. 
Number 5. Muggsy Bogues
Kicking off our list of the best Charlotte Hornets' of all time is Muggsy Bogues. To many, Bogues is just the shortest man to ever feature in the NBA. For the Hornets fan base though he is the man that represented them so well between 1988 and 1997. In fact, for many of those supporters, Bogues might rank slightly higher on this list. We, however, think his ranking of fifth is fair. 
The point guard had excellent court vision to go along with his phenomenal defensive instincts. During his ten years with the Hornets, he averaged 1.7 steals and 2.9 rebounds along with posting 8.8 points and the same number of assists per game.
Number 4. Dell Curry
Steph Curry might be on the brink of going down as the best three point shooters in NBA history but the player in focus here is his father, Dell. Dell was a fantastic shooter in his own right too. He was rarely a starter for the Hornets but was a constant force off the bench; the Sixth Man of the Year award he picked up in the 1994 is proof of that. It's not all he can boast about though. 
Curry holds multiple franchise records across different categories whilst his statistical averages measure up alright as well. A decade long spell with game averages of 14 points, 2.9 rebounds and 1.1 steals shows he deserves to be recognised as an all time Hornets great.
Number 3. Larry Johnson
Larry Johnson was selected by Charlotte with the first overall pick in the 1991 NBA draft. He would go on to play five full seasons with the Hornets before eventually switching teams. During that five year period, not only was the big man able to win the Rookie of the Year award but he was also named an All Star twice whilst making his way onto the All NBA Second Team as well. 
With his time in Charlotte much shorter than many of his teammates, his overall stats don't scream out as top notch; his game averages, however, are evidence of a man who is unquestionably one of the best Charlotte Hornets of all time. Johnson averaged 19.6 points, 9.2 rebounds and 4.1 assists per game.
Number 2. Gerald Wallace
The penultimate name on our list of the best Charlotte Hornets of all time is Gerald Wallace. He just looked at home when he was on the court. Wallace's near superhuman athleticism allowed him to sink points without any trouble at all whilst his nimble footedness made him a real force to be reckoned with on the defensive end. He was with the Hornets for seven years between 2004 and 2011. 
During that time, he was an All Star, an NBA All Defensive First Team player and was able to lead the entire league in total steals in 2006. His career averages whilst in Charlotte were 16.4 points, 7.5 rebounds, 2.4 assists and 1.8 steals per game. He was capable of getting it done all over the floor.
Number 1. Kemba Walker
A drum roll won't be necessary; deciding number one of this list barely needed any thinking about. Kemba Walker is the best player to ever suit up in the Charlotte Hornets colours. 
The justification for claiming so is easy to find too. He was with the team for eight seasons until he left for the Boston Celtics in 2019. In that time Walker was excellent offensively with his ability to dribble through defences to create his own shooting positions a particularly strong trait of his. 
He was selected to the All-Star team three times and made the NBA Third Team in prior to his exit from the Hornets. He averaged 19.8 points, 3.8 rebounds, 5.5 assists and 1.3 steals per game for the Hornets. Walker was the star man throughout his time in Charlotte and although the team were never close to achieving anything, they did at least have the ability to hurt teams and win games with him as their driving force.
There you have it, the best Charlotte Hornets of all time. Who did we miss?
Comments
comments