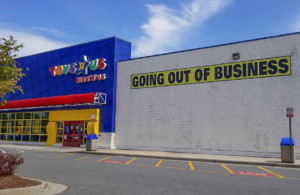 Toys R Us recently announced that it will be shutting down all 800 of its U.S. stores, including 4 stores in the Charlotte area, affecting as many as 33,000 jobs. They are now liquidating all products with graduating percentage discounts.
America's largest toy retailer filed for bankruptcy protection about 6 months ago, and they've been working aggressively to restructure their nearly $8 billion in debt ever since.
According to last year's bankruptcy filing, the company noted it had over 100,000 creditors, the largest of which are Bank of New York (owed $208 million), Mattel (owed $136 million), and Hasbro (owed $59 million).
Over the past decade, Toys R Us slowly lost market share to big-box retailers such as Walmart and Target and online competitors (most of its overall market share went to Amazon's growing online toy storefront).
Back in January, Toys R Us announced it would be closing 180 stores in hopes of streamlining their retail operations, but it just wasn't enough.
This final decision will end all operations at their 800 stores across the country, including Charlotte area's 4 locations in Pineville, Concord, Gastonia, and Hickory.
Sales currently range from 15%-25% off and will continue to increase until all products are sold, which the company is hoping will happen by mid-summer of this year.
Comments
comments