The weekend is almost here!
There will be tons of concerts, festivals, dogs, and Bernie!
Here are the top 10 things happening around the Charlotte region this weekend:
The South End Hops Festival is about to hold its 6th annual event for beer enthusiasts, foodies, and puppy lovers. Proceeds will benefit RescuedMe, a non-profit organization dedicated to rescuing dogs in dire need, rehabilitating them and placing them in stable, loving homes.
The festival, a staple in South End, will take place on Saturday, May 18th at 308 W. Carson Boulevard and Mint Street from 2:00 to 6:00 p.m. Attendees will experience craft beer, live music, and tons of amazing food.
new this year is the first annual South End Hops Fest Eve beer dinner and the pre Fest Pup Parade.
For more info click here.
Enjoy the BEST Italian Cuisine, Open Wine Prosecco Bar and PERONI Beer Garden, Continuous Live Stage Entertainment, Silent Auction, Kid Zone, and MORE all afternoon, Sunday, May 19, 2019. All proceeds go to Nevins Center to help them create opportunities and a better life for people with disabilities.
For more info or tickets click here.
Chris Young, winner of the Nashville Star and member of the Grand Ole Opry, is now one of the hottest rising stars in Country Music. He'll be coming to Charlotte this Spring to rock the Queen City with hits like "I Can Take It from There", "Lonely Eyes", and "Voices".
He will be performing live with Chris Janson at the PNC Music Pavilion this Friday night starting at 7pm.
For tickets or more info click here.
#4 3rd Annual Cheerwine Festival
The free event is set to take place, Saturday, May 18, in downtown Salisbury from 12pm to 10pm, and will be celebrating both Cheerwine and late 90s pop-rock band Smashmouth.
For more info click here.
Bernie Sanders will be hosting a rally in Charlotte this coming Friday. This event is free and open to the public. Tickets are not required, but an RSVP is encouraged. Free parking available at the faculty theater garage at 1225 E. 4th Street.
For more info or to RSVP click here.
See beautifully groomed and impressively talented pups at Gaston County's 47th annual 'Canine Carnival'.
The Canine Carnival will start out with check-in at 9:30am, carnival dog games at 10:00am, Animal Care & Enforcement Parade at 10:45am, and we will finish up with the 46th Annual Just Plain Dog Show at 11:30am
For more info click here.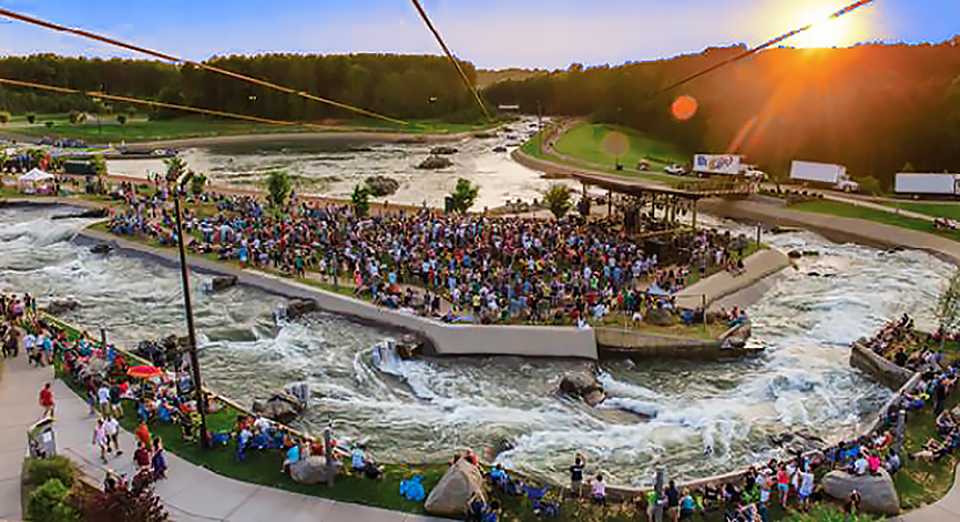 This coming Friday night, the US National Whitewater Center will be hosting Old Salt Union.
Bring your friends, enjoy our large food and craft beer selection, and take in the sights and sounds of River Jam.
For more info click here.
The Kaleidoscope Fest is Waxhaw's largest one-day Food, Music and Art Festival. The goal is to promote Waxhaw's culture and all things art in Waxhaw from fine arts and crafts, to the performing arts, and the culinary arts. This year, they will be adding the Taste of Waxhaw venue featuring food bites from more than 14 Waxhaw area restaurants
For more info click here.
This iconic punk rock band is responsible for some of the biggest punk hits in recent decades, including "Fat Lip" and "In Too Deep." Sum 41 has been an active force in alt-rock for two decades now, and this platinum-selling punk band certainly knows how to put on a great live show.
They will be playing this coming Sunday evening at The Underground Charlotte.
For tickets or more info click here.
Dinner is Coming! May 19th, 2019 at 7pm join Huntersville's Rural Hill for a night of feasting, Trivia with Renaissance Festival's Lord Mayor Bullfrog, and the final battle for the Iron Throne! Come dressed in your Westerosi best for the costume contest* and play our "Alive, Dead, or White Walker" guessing game.
For more info click here.
If you think other events should be on this list or future lists, let us know – Scott@CharlotteStories.com
Comments
comments