Now that Cam Newton has re-injured his foot and lost the first 2 games of the season, many are wondering if it's time to make a change.
Given that our 2 backup QBs failed to impress in the pre-season and the free agent roster doesn't look much better, commentators, coaches, and fans are increasingly considering the possibility of hiring Colin Kaepernick to replace Cam (or at least one of our backups).
"With Cam Newton's health floating over the franchise…is it time for the Panthers to finally make that @Kaepernick7 call to save this season?" @daringantt on @Wilson_Parcell: https://t.co/ccaEYablqm pic.twitter.com/eqnZ7Dl7uy

— WFNZ-AM/FM (@wfnz) September 17, 2019
Earlier this year, Kaepernick's Attorney Mark Geragos told CNN's Ana Cabrera that he thinks Carolina might be one of the most likely candidates to recruit his client.
"If Cam Newton is out, then the natural place to be is to play with Eric (Reid) in Carolina. I mean can you imagine? And you've got an owner there," Geragos noted. The Panthers' liberal new owner, David Tepper, did recently approve the extension of controversial safety Eric Reid, who both played with and kneeled with Kaepernick in San Francisco.
Geragos also commented of Kaepernick, "He absolutely wants to play. He wants to compete at the highest level. I mean this is a competitive young man… This is someone who's in his prime. You get smarter at that position, and he's wise beyond his years."
The former 49er was considered one of the leagues top QBs while on the team, and according to many evaluators, he's still more talented than most currently unsigned QBs.
According to reporter Chris Williamson, Colin is rumored to be in the "best shape of his life";
Source close to @Kaepernick7 in light of all the QB injuries: "Colin is literally in the best shape of his life. He's been working out 5 days a week at 5 am for 3 years. He wants to play and his agent has been contacting teams in need of a QB."

— Chris Williamson (@CWilliamson44) September 17, 2019
There's also a growing movement among Carolina fans to bring the former 49er to the Queen City.
Yesterday when we posted an article about Cam missing the first practice after the Buc's loss, a surprising number of people posted very positive comments about Kaepernick;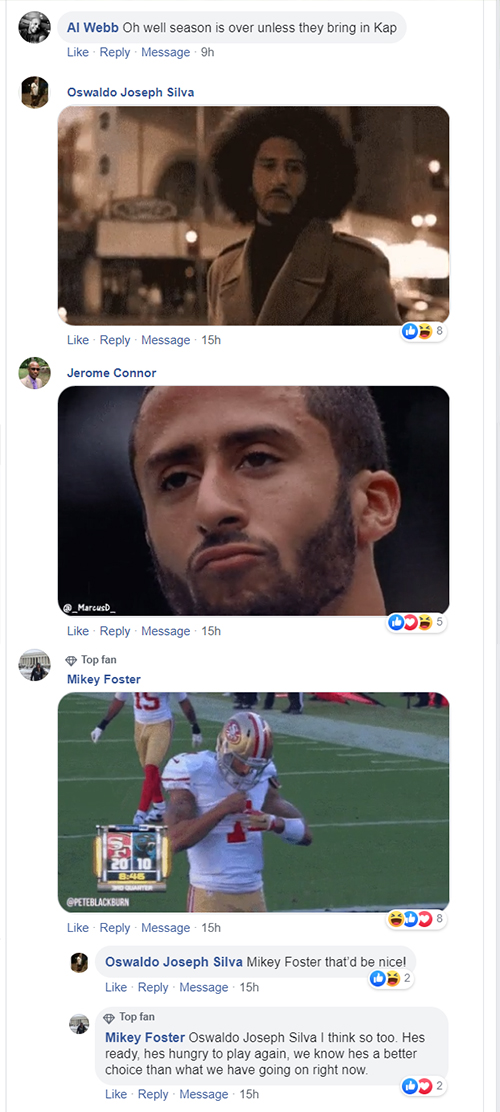 Many also believe there are strong political, social, and economic reasons for bringing Colin to the Carolinas.
The Panthers have already learned that a player who speaks out for social justice can be a boost to the bottom line after signing Eric Reid last year.
Signing Reid's former teammate could be an even bigger boost in terms of jersey sales, network attention, and liberal praise from around the world (likely outweighing any negative push-back from the anti-BLM camps).
What do you think about bringing Colin Kaepernick to the Carolinas?
Comments
comments