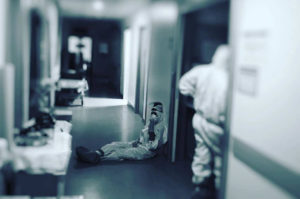 With states losing massive amounts of tax revenue while still having to support their residents during the coronavirus pandemic, the personal-finance website WalletHub today released its report on the States That Need the Most Financial Help Due to COVID-19.
To identify which states may need the most financial help due to the coronavirus crisis, the site compared the 50 states across 18 key metrics. Our data set ranges from the state's rainy-day funds and debt per capita to the share of the workforce in highly-affected industries.
South Carolina ranked #10 and North Carolina ranked #33 on the list.
States That Need Most Financial Help Due to Coronavirus
| Overall Rank | State | Total Score | "State Financials" Rank | "Health & Employment Landscape" Rank |
| --- | --- | --- | --- | --- |
| 1 | Louisiana | 62.29 | 2 | 4 |
| 2 | Kentucky | 57.55 | 6 | 7 |
| 3 | Florida | 57.48 | 17 | 1 |
| 4 | New Hampshire | 56.72 | 16 | 3 |
| 5 | New York | 55.40 | 4 | 25 |
| 6 | Illinois | 55.02 | 1 | 36 |
| 7 | New Jersey | 53.46 | 3 | 31 |
| 8 | Nevada | 53.34 | 14 | 6 |
| 9 | Michigan | 51.86 | 8 | 14 |
| 10 | South Carolina | 51.52 | 12 | 8 |
| 11 | Georgia | 51.44 | 40 | 2 |
| 12 | Virginia | 50.82 | 27 | 5 |
| 13 | Colorado | 50.65 | 11 | 11 |
| 14 | Washington | 48.74 | 13 | 19 |
| 15 | California | 47.36 | 7 | 43 |
| 16 | Arizona | 47.33 | 18 | 17 |
| 17 | Alaska | 47.20 | 5 | 48 |
| 18 | Hawaii | 46.86 | 31 | 9 |
| 19 | Maryland | 46.54 | 29 | 12 |
| 20 | Connecticut | 46.39 | 10 | 34 |
| 21 | Indiana | 46.12 | 30 | 13 |
| 22 | Massachusetts | 46.10 | 9 | 44 |
| 23 | Texas | 45.97 | 15 | 30 |
| 23 | West Virginia | 45.97 | 24 | 23 |
| 25 | Oklahoma | 45.50 | 28 | 21 |
| 26 | Rhode Island | 45.50 | 23 | 26 |
| 27 | Missouri | 45.30 | 25 | 24 |
| 28 | North Dakota | 44.48 | 22 | 29 |
| 29 | Pennsylvania | 43.91 | 19 | 33 |
| 30 | Mississippi | 43.87 | 32 | 22 |
| 31 | Ohio | 43.68 | 21 | 32 |
| 32 | Tennessee | 43.18 | 36 | 16 |
| 33 | North Carolina | 42.68 | 43 | 10 |
| 34 | Delaware | 42.38 | 26 | 38 |
| 35 | Kansas | 42.09 | 20 | 45 |
| 36 | Alabama | 40.91 | 35 | 28 |
| 37 | Maine | 40.84 | 42 | 20 |
| 38 | New Mexico | 40.49 | 44 | 15 |
| 39 | Idaho | 39.76 | 34 | 39 |
| 40 | Montana | 39.39 | 33 | 42 |
| 41 | Minnesota | 38.13 | 41 | 35 |
| 42 | Arkansas | 37.29 | 37 | 46 |
| 43 | Oregon | 35.88 | 39 | 47 |
| 44 | Utah | 35.73 | 48 | 27 |
| 45 | Wisconsin | 35.60 | 37 | 49 |
| 46 | Nebraska | 35.58 | 45 | 40 |
| 47 | Vermont | 34.94 | 46 | 37 |
| 48 | South Dakota | 34.72 | 49 | 18 |
| 49 | Wyoming | 30.04 | 50 | 41 |
| 50 | Iowa | 29.96 | 47 | 50 |
To view the full report and your state's rank, please visit:
https://wallethub.com/edu/states-that-need-most-financial-help-due-to-covid-19/74485/
Comments
comments