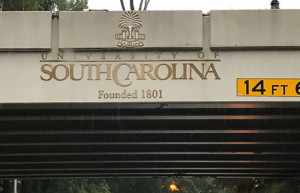 With World Teachers' Day around the corner and teaching among the lowest-paid professions that require a bachelor's degree, the personal-finance website WalletHub today released its report on 2019's Best & Worst States for Teachers.
In order to help educators find the best opportunities and teaching environments in the U.S., the site analyzed the 50 states and the District of Columbia across 23 key metrics, ranging from teachers' income growth potential to pupil-teacher ratio to teacher safety.
South Carolina came in at number #44 (a slight improvement from last year's #45 spot), and North Carolina saw a massive improvement, moving a full 21 spots, from #49 last year, to #28 this year.
2019's Best States for Teachers
Overall Rank
(1 = Best)
State
Total Score
'Opportunity & Competition' Rank
'Academic & Work Environment' Rank
1
North Dakota
61.69
11
3
2
New Jersey
60.15
17
1
3
Pennsylvania
59.67
2
10
4
Wyoming
56.98
20
4
5
Connecticut
56.53
32
2
6
Illinois
55.93
6
16
7
Minnesota
55.61
14
7
8
Massachusetts
55.49
24
5
9
Utah
54.50
8
22
10
New York
54.03
25
6
11
Delaware
53.82
23
9
12
Oregon
53.37
4
34
13
Kansas
53.27
18
18
14
Kentucky
53.11
15
20
15
Washington
52.95
19
17
16
Idaho
52.72
9
28
17
Alaska
52.58
1
45
18
Iowa
52.08
12
27
19
Vermont
51.88
26
14
20
Virginia
51.62
21
25
21
Ohio
51.07
34
15
22
Maryland
51.04
29
19
23
Indiana
51.02
16
30
24
California
50.81
3
47
25
Georgia
50.65
13
35
26
Nebraska
50.48
30
24
27
South Dakota
50.42
22
26
28
North Carolina
50.25
5
43
29
Montana
50.18
31
23
30
Texas
48.90
10
44
31
Wisconsin
48.79
39
21
32
Mississippi
48.32
7
48
33
Florida
47.64
33
32
34
Rhode Island
47.48
41
12
35
Arkansas
47.46
35
33
36
Michigan
46.94
27
39
37
Nevada
46.41
36
38
38
Alabama
46.13
28
41
39
Missouri
45.92
40
31
40
Colorado
45.49
47
8
41
Tennessee
44.79
43
29
42
Maine
44.72
48
11
43
District of Columbia
43.49
42
36
44
South Carolina
42.20
38
49
45
Oklahoma
41.92
37
50
46
New Mexico
41.07
44
42
47
West Virginia
40.71
45
37
48
Louisiana
37.87
46
46
49
Hawaii
37.51
49
40
50
New Hampshire
35.47
51
13
51
Arizona
33.95
50
51
Comments
comments