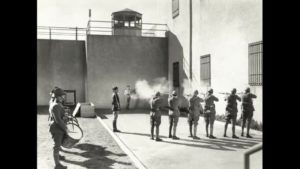 Yesterday, the South Carolina House voted 66-43 to approve SB 200, a bill that would bring back the firing squad for executions in the state.
Death Row Inmates in South Carolina have had the option of choosing between the electric chair and lethal injection, and recently, prisoners have chosen lethal injection after hearing it might delay their execution. Now, inmates can only choose lethal injection if the drugs are available at the time of their election, otherwise, they have to choose between the electric chair and a firing squad.
SB 200 specifically reads:
"A person convicted of a capital crime and having imposed upon him the sentence of death shall suffer the penalty by electrocution or, at the election of the convicted person, by firing squad or lethal injection, if it is available at the time of election, under the direction of the Director of the Department of Corrections. The election for death by electrocution, firing squad, or lethal injection must be made in writing fourteen days before each execution date or it is waived. If the convicted person receives a stay of execution or the execution date has passed for any reason, then the election expires and must be renewed in writing fourteen days before a new execution date. If the convicted person waives the right of election, then the penalty must be administered by electrocution."
South Carolina will become just the 4th state in the nation to include a firing squad as part of their executions, joining Utah, Oklahoma, and Mississippi.
The SC Senate initially approved the bill this past March and will now have to vote on the minor changes the House made to it, at which point it will move to Republican Gov. Henry McMaster's desk, who has said he will sign it.
Comments
comments