Dr. Eddie S. Glaude Jr. will deliver an inspirational message, virtually, during Levine Museum of the New South's annual fundraiser, CataLysT. The June 5, hybrid in-person/virtual fundraiser, presented by PNC Bank, will benefit Levine Museum's efforts to build a stronger, more equitable community by connecting people to Charlotte and to each other through history, culture and celebration. Guests are invited to attend in-person at Victoria Yards or join virtually, at 7:00 p.m.  
Dr. Glaude, the James S. McDonnell Distinguished University Professor of African American Studies at Princeton University, is an author, political commentator and passionate educator who examines the complex dynamics of the American experience.
CataLysT will surely be a night to remember – an evening of story, music, community and reflection. Dr. Glaude's message, America's Great Promise, will examine the three great waves of the Civil Rights struggle in America – a struggle characterized by progress and set-backs – and will invite the audience to look inward. Levine Museum encourages local and national audiences to gather for this timely message – to inspire hope, ignite dialogue, and create change as individuals and as a community.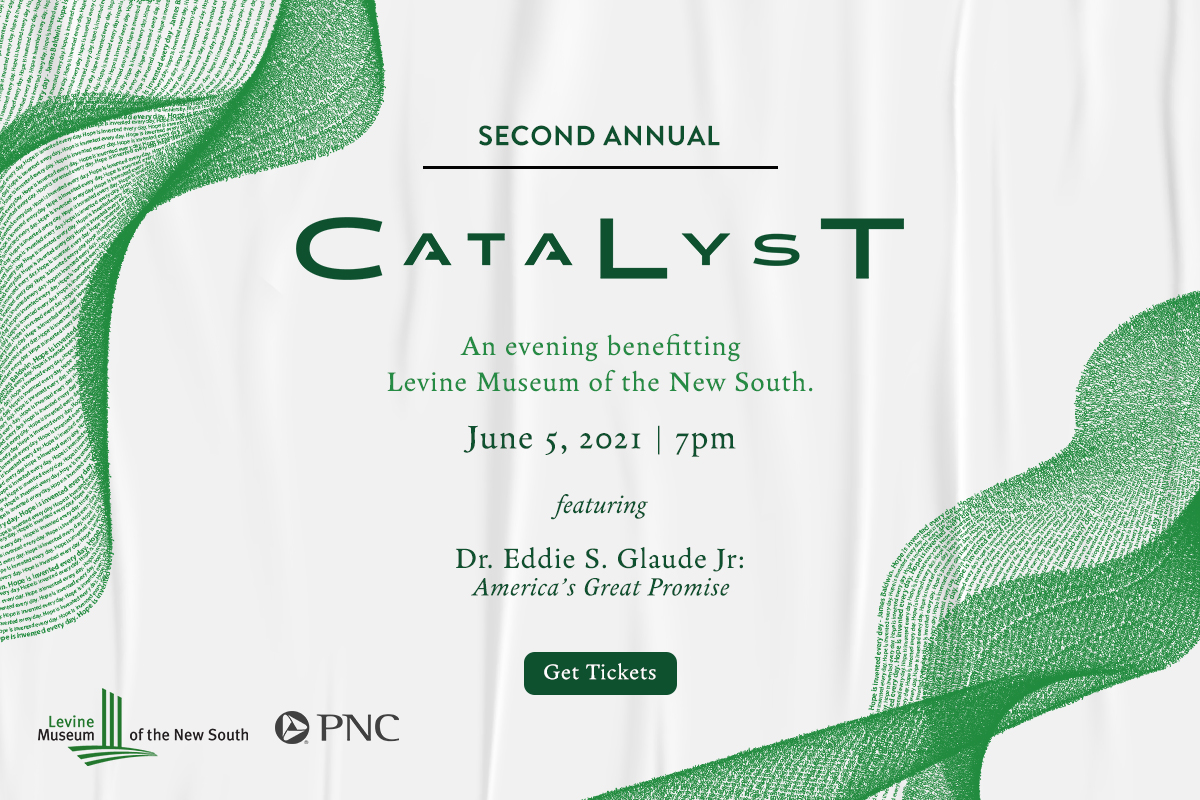 "For 30 years, Levine Museum of the New South has used history to build a just and equitable community, as Charlotte's storyteller, memory-keeper, convener, and catalyst – so it is fitting that we mark this occasion by bringing Dr. Eddie Glaude to Charlotte," said Kathryn Hill, president and CEO of Levine Museum of the New South. "Dr. Glaude urges us to think deeply about history and to challenge the myths we tell ourselves about that history to effect real and lasting change. His message has never been more important."
"At PNC, we believe education can be a great unifier," said Weston Andress, PNC regional president for Western Carolinas. "We are fortunate Levine Museum of the New South shares this belief – and we are grateful for its continued work to help our community understand the history that has shaped our region."
Levine Museum serves schoolchildren and educators, long-time residents, newcomers and tourists, using history to build a just, equitable community. Proceeds raised from CataLysT will support this continued effort. For ticket information and sponsorship opportunities, visit museumofthenewsouth.org/catalyst.
Comments
comments