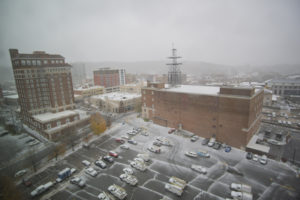 A winter storm warning has just been issued for Western North Carolina, which could dump upwards of 12 inches of snow on the mountains, according to the National Weather Service (NWS).
Last night the National Park Service shut down one of the main roads connecting North Carolina with Tennessee in anticipation of the incoming storm;
HWY 441, Newfound Gap Rd. between Gatlinburg, TN and Cherokee, NC is currently closed due to inclement weather.

— Smokies Road Info (@SmokiesRoadsNPS) December 1, 2019
This morning the NWS sent out the following Winter Weather Advisory:
In the wake of a vigorous cold front, brisk northwesterly winds
and associated moisture will spread over the southern Appalachians
today. A fairly extended period of snowfall and very windy conditions
will continue through today and linger into early Tuesday. Snowfall
accumulations will be highly dependent on elevation and will be
most significant on northwest facing slopes. Most lower mountain
elevations will see less than 3 inches for the event as a whole, but 
the higher ridges, above 3500 feet, will see 6 to 12 inches. A few 
ridgetop locations may exceed 12 inches, especially in the Smokies.
The storm will bring snow to the majority of North Carolina west of Forest City and Hickory, with a 5% chance of the Charlotte region seeing any precipitation;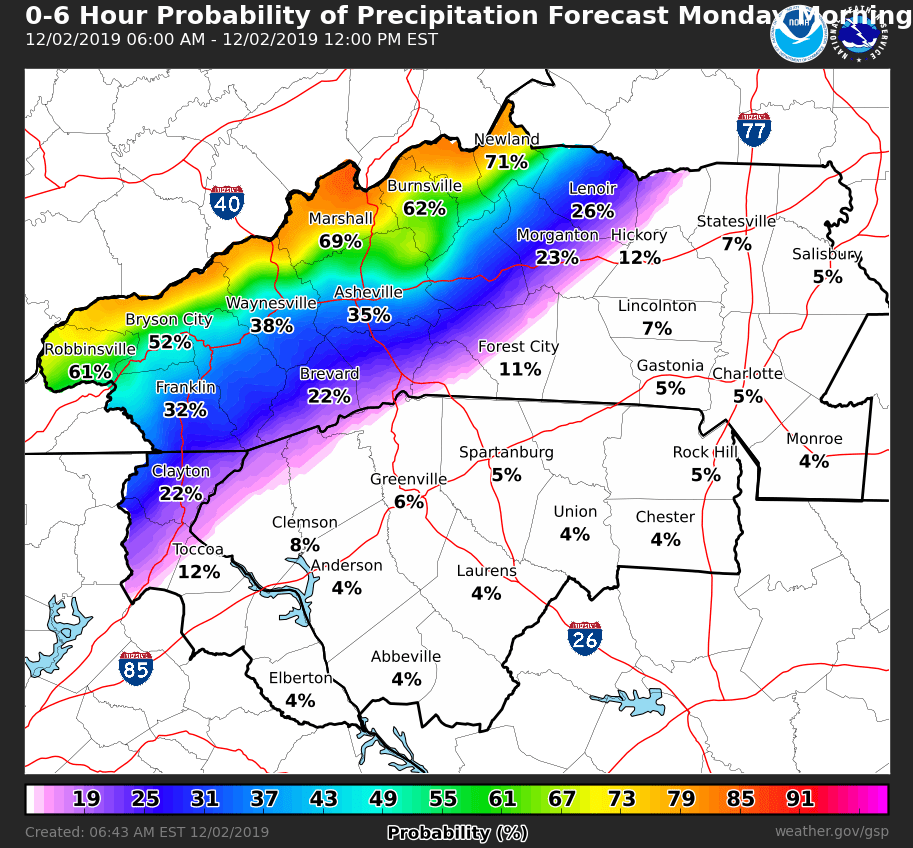 The massive cold front will also bring lower than usual temperatures to our entire state today, with a high of 28° in Banner Elk and a high of 49° in Charlotte.
If you moved here from Ohio or New York (like myself), you may be rolling your eyes, but if you're from Florida or California, you might need to make some changes to prepare for the coming winter temperatures.
To prepare your car, top off all your fluids, especially your oil, power steering fluid, and antifreeze. You'll also want to check your tires and make sure your air pressure is over 32 PSI.
To prepare your home, make sure to drain all fountains and exterior water fixtures. Always let at least one of your faucets drip to avoid freezing pipes. Consider buying a humidifier if you're sensitive to dry air. If you have an older home with older windows, investing in some shrink film insulation will save you a ton on your heating bill.
To prepare yourself, buy some thermal gloves, a warm hat, and a winter jacket. If you're going to spend any length of time outside, you may even want to consider buying an electric heating jacket.
If you have a pet – make sure to read our article about how to keep your furry friend warm!
Comments
comments