The Carolina Panthers are working out final plans to build new 'bunker suites' underneath Bank of America Stadium with no views of the field and seasonal price tags upwards of $100,000.
According to a recently acquired "Request For Proposal" (RFP) submitted to architects, the new bunkers would be 7,000-9,000 square feet window-less rooms near the stadium's west end zone (located right next to the tunnel where the Panthers enter the field). The 10-12 person rooms will include a full bar, living room area, dining table, and private restrooms.
The RFP also notes that bunker suite holders will have preferred parking spaces, a private stadium entrance, and reserved seats in the first few rows of the stadium.
Team president Tom Glick recently sent a letter to PSL owners, stating that new stadium upgrades would be built alongside the Panther's practice bubble and headquarters facility in Fort Mill.
"These investments, we believe, are essential to building a successful team," Glick said. "And the onus is on us to continually deliver the best environment for our players, as well as making attending a Panthers game the best experience possible."
The new bunker suites would be very similar to the Minnesota Viking's new 'touchdown suites', which cost between $180,000 to $225,000 per season. The Viking's 'bunker suites' are a little bigger than the Panther's proposed suites, with seating for 20-24 people;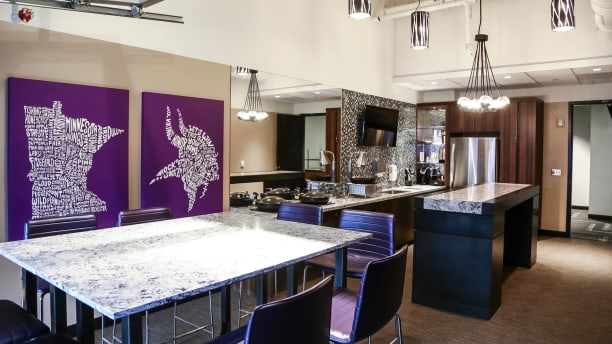 The 'bunker suite' concept has been increasing in popularity around major league sports for the past 20 years, with examples seen in the NFL, MLB, NBA, and MLS.
One of the most extreme examples is perhaps 20 Madison Square Garden's 20 bunker suits, which are currently selling for $1 million per year.
The Panthers are scheduled to select a construction firm by Nov. 15th, start construction by Dec. 15th, and complete the new stadium upgrades by July 31st, 2020, according to the RFP. 
What do you think about the Panthers new 'bunker suites' idea? 
Comments
comments