Most people new to Charlotte know NoDa as the funky place to visit for music and dining. Native Charlotteans and long-time NoDa residents have an appreciation for how far NoDa has come and how it's history has shaped the community.
The neighborhood is located just two miles from Uptown Charlotte with a business section and residential area.
From North Charlotte to NoDa
North Charlotte started as a mill village in the early 1900's. Mill workers from Mecklenburg, Johnston and Highland textile mills lived with their families in small one-story homes. Later in the century, the mills closed and the residents fell onto hard times. Houses were in disrepair and slowly the area became an undesirable place to live.
North Charlotte became known for its drug houses and prostitution.
The revitalization of the neighborhood started in the late 1980's and early 1990's. It was driven by artists, Paul Sires and Ruth Ava Lyons through the work they did at Center of the Earth Gallery, then located on North Davidson Street. The word, "Historic" was added to North Charlotte and with the help of monthly gallery crawls and music at the Neighborhood Theatre and Fat City, more people were attracted to the area. Eventually the name "Historic North Charlotte" gave way to NoDa.
Long-time residents agree that the neighborhood is safer and has more options for entertainment, shopping and food. NoDa Neighborhood and Business Association (NBA) board member Matt Lemere has been a resident since 2008. He said, "It's definitely changed. I go back and forth on whether it's good or bad. It's way more safe, but it's lost what people knew NoDa of in the 90's. It's lost that grittiness."
Several businesses in NoDa pay tribute to the past that makes the neighborhood endearing to its residents. The Blind Pig, Jack Beagles and the NoDa Company Store feature murals that depict the history of the area. The chicken thief painted on the side of the Company Store always raises an eyebrow.
"The businesses play off our history, which is awesome. They keep it alive as well," Lemere said.
A Place to Stay
Kati Mayo and her family have owned a home in NoDa for 19 years. She said, "We've st
ayed because we love our house, our NoDa friends, the neighborhood parks, the walkability to restaurants, entertainment and the magnet elementary school."
Michael Fleming has rented in NoDa since 2013. He describes NoDa as a 'quirky Mayberry.' He said, "Everyone knows each other and you're nice to each other. You have good neighbors."
Business owners and residents have jumped in to coordinate NoDa's Farmer's Market, weekly softball games, Eclectic Market, Noda Parent's Half-Assed Easter Egg Hunt and Halloween Party.
Supporting their own
With artists like David French and Osiris Rain and musicians from the Molly Wopps, Broken Napoleons and The New Familiars living and working in NoDa, there are many opportunities to support the local talent.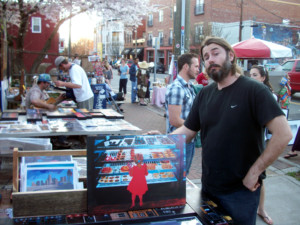 Lemere said, "Anytime there's some sort of pubic gathering for them, whether it's musicians, artists or our Ghosts and Legends Tour, people come out to support their friends, and to sound cheesy, their family, in our neighborhood doing stuff in the neighborhood. It's a very welcoming experience to be a part of that."
NBA has several committees that plan events throughout the year. The All Arts Market provides inexpensive space for local artists to sell their products. Kidoween, Ghosts and Legends, Drinks n' Things and Krampus Crawl are other popular events for the community.
Inevitable Growth
The LYNX Blue Line coming to NoDa in the next year will create even more growth. The NBA has been actively involved with the city and developers. NBA often critiques the designs and have been known to send developers back to the drawing board to come up with more unique ideas. NBA board member, Lauren Schalburg has lived in NoDa since 2006. She said, "There's one building that we have coming in. We call it the tetris building because we've had them work in so many architectural protrusions."
Residents recognize that change is inevitable. Lemere said, "That's where you get that weird – is it good or bad that we are evolving? Because it's safer here and there's more options. With that comes a cost. How does that balance out? I think that's the big challenge for the neighborhood."
Neighborhood Picks
Blended Bartique
Dog Bar
Evening Muse
Haberdish
Jack Beagle's
NoDa Bodega
NoDa Company Store
Pura Vida
Rat's Nest
Ruby's Gifts
Saluda
Sanctuary
Seeds
Smelly Cat
Connect on social media
Instagram
Twitter
Website
Facebook
Charlotte's neighborhoods represent the eclectic and diverse side of the Queen City. Each community has its own personality and vibe. For many, their neighborhood becomes an extended family. Residents develop strong pride and love for the people, events and local businesses. Neighborhood Stories is a new series on Charlotte Stories that will highlight the various neighborhoods in and around Charlotte.
If you are interested in having your community highlighted in Neighborhood Stories, email Vanessa Infanzon at vanessainfanzon@gmail.com. Please add "Neighborhood Stories" to the subject line.
Series
Elizabeth
South End
Plaza Midwood
Photo Credit: Kati Mayo, Docklands Design
Comments
comments