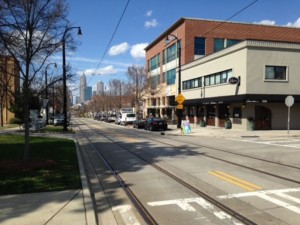 Charlotte's neighborhoods represent the eclectic and diverse side of the Queen City. Each community has its own personality and vibe. For many, their neighborhood becomes an extended family. Residents develop strong pride and love for the people, events and local businesses. Neighborhood Stories will highlight the various neighborhoods in and around Charlotte.
The Elizabeth neighborhood, named for Elizabeth College, is located southeast of center city. The community includes Central Piedmont Community College, Novant Health Presbyterian Medical Center, Carolinas Medical Center-Mercy, and many restaurants, shops and bars. It is also home to Independence Park, the City of Charlotte's first owned public-park, which was built in 1904. The Gold Line trolley is a recent addition to the neighborhood. It runs from the Time Warner Cable Arena to Novant Health Presbyterian Medical Center.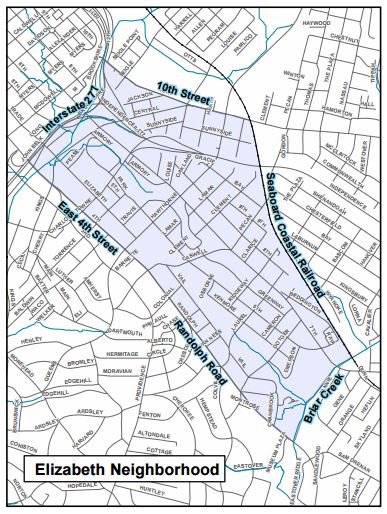 Vibrant Community
Elizabeth i
s an active neighborhood with year-round events planned by residents and the Elizabeth Community Association (ECA). Community-wide events are planned almost every month. The neighborhood is known in Charlotte for their Great Pumpkin Wall, Rosemont Manor Haunted House and having one of the best cheering parties for the Charlotte Marathon.
Charlotte's oldest road race, the Elizabeth 8K Road Race is in its 31st year. This year the race is on Saturday, March 25, 2017. It starts and ends at Independence Park. Proceeds from the race benefit trees.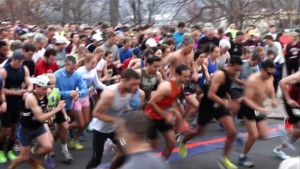 Rob Zabel, an 11-year resident of Elizabeth, coordinates the race. "It benefits trees – the beautification of the Elizabeth neighborhood and the replenishing of Elizabeth and Charlotte tree canopies," said Zabel.
For the first time, the race will have its own signature beer. Legion Brewing is creating an Elizabeth 8K Session Ale for the event, and it will be available on-tap at Legion and on-site at the race.
Independence Park is a 19-acre park located on the western end of the neighborhood. It has a playground, sand volleyball court, baseball field, basketball courts, ping-pong and walking trails that lead to Little Sugar Creek Greenway. The newly renovated Rose Garden within Independence Park will be rededicated at a ribbon-cutting ceremony on May 20, 2017.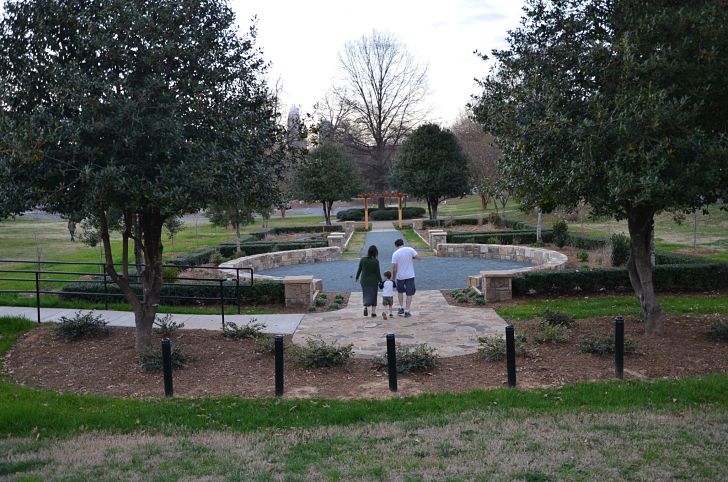 Vibe
Laina Kafiti, an Elizabeth resident for six years, explained that the parks and local businesses are like their personal back yard. She said, "It feels like an urban family environment to me – kids hanging out on the street, riding their bikes, going to each other's houses, playing in the yards. My kids are walking up to Showmars, Starbucks and up to the park."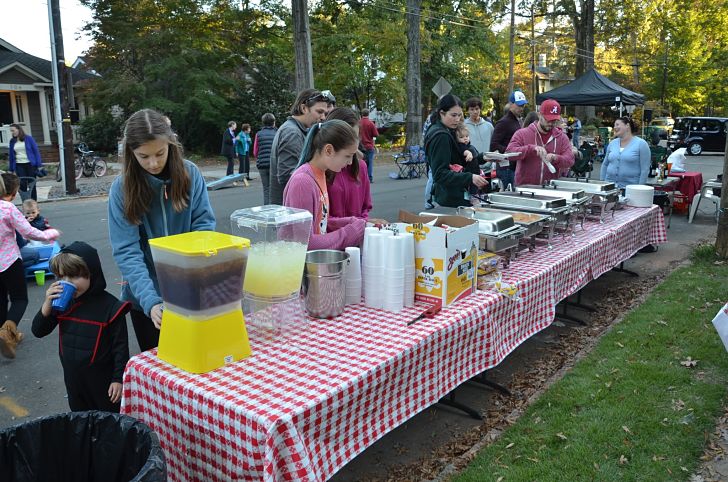 Zabel said, "It has a good eclectic urban feel. I moved down with my wife from New York. I didn't want to end up in the suburbs someplace. I am able to walk a block to a Starbucks, do my dry cleaning, hit yoga and multiple bars."
Art
Kris Solow has been a resident of Elizabeth for 29 years. She and her husband, Rick Solow, raised their sons in the neighborhood. She said, "A lot of people are transplants and Elizabeth gives a sense of community. People come together for a common cause. We have events and neighborhood camaraderie." Solow was concerned that the neighborhood did not have any public art. With a grant from the city and the Arts and Science Council, they were able to get a three-piece installation at the water tower on Pecan Ave.
Neighborhood Picks
Sunflour Bakery
Earl's Grocery
Elizabeth Creamery
Spoke Easy
Bang Bang Burgers
Fig Tree
Sabor
Hawthorne's New York Pizza & Bar
Anntony's Caribbean Café
Cajun Queen
Viva Chicken
Carpé Diem
Passion8
Customshop
Kennedy's
Connect on social media
Elizabeth Community Facebook page
Instagram
Twitter
"Ticket to Elizabeth" – 2009 podcast that provides an in-depth look at Elizabeth
Photos: Kris Solow, Ken Magas, Vanessa Infanzon
If you are interested in having your community highlighted in Neighborhood Stories, email Vanessa Infanzon at vanessainfanzon@gmail.com. Please add "Neighborhood Stories" to the subject line.
Comments
comments