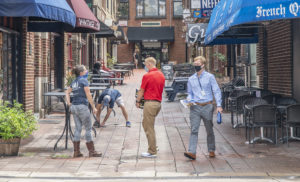 The State of North Carolina has just recorded the highest number of new Covid-19 cases in 1 day, again.
Yesterday, officials with the NC Department of Health and Human Services announced that there were a total of 4,514 new cases over a 24-hour period – the highest number our state has seen since the pandemic started (beating the previous highs of 4,296 on 11/19, 3,885 on 11/14, and 3,119 on 11/11).
We've also been seeing an increase in the number of hospitalized, with a total of 1,571 Covid-19 patients currently undergoing treatment.
Here are the case numbers from the past few months:
While the number of cases has significantly risen, the number of tests have only risen slightly:
Governor Roy Cooper is scheduled to hold a public press conference today to address the spiking numbers and what changes the state might make to attempt to curb them.
Comments
comments