Movement Mortage's charitable arm, the Movement Foundation, is about to open their second Movement School on Charlotte's east side.
The tuition-free public charter school is now planning on starting classes for the 2020 school year to serve up to 900 students on Charlotte's east side.
The new campus, to be named Movement School East, will be located at the former Eastland Mall site, near the intersection of Central Avenue and Sharon Amity Road. The nonprofit Movement Foundation has purchased a former grocery store adjacent to the mall site and will renovate the property to house the school.
Movement School East has already received its state approval for the second campus. It will eventually have room for up to 900 students in kindergarten through 8th grade.
"Nothing unlocks potential like education," says Movement School founder and chairman Casey Crawford. "We believe opening a second campus will help the unique gifts, talents and abilities of even more children across Charlotte become fully realized."
Inaugural year successes
Movement School opened its original Freedom Drive campus in August 2017 with kindergarten through 2nd grade. Third grade has been added for the 2018-2019 school year and an additional grade will be added each year through 8th grade.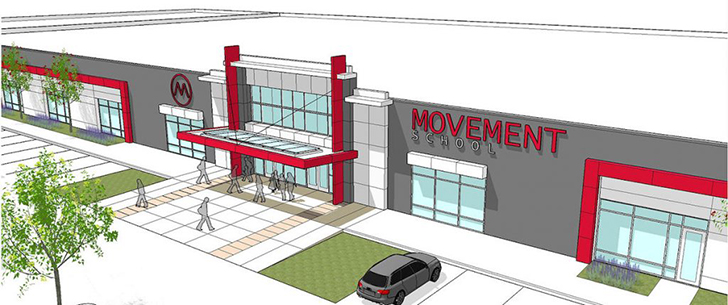 The first year of school resulted in numerous student, parent and teacher successes. Some of the school-wide highlights include:
Reading proficiency increased from 12 percent to 59 percent in one academic year.
Math proficiency improved from 45 percent to 61 percent in one academic year.
Parents rated the school 5.5 on a 6-point scale for overall satisfaction.
Teacher retention from the first school year to the second was 100 percent.
Teacher satisfaction survey results exceeded local, state and national averages.
Became the only new charter school in Charlotte to exceed enrollment projections in 2017.
Reported an operating budget surplus in its first full year of operation.
More than 500 student applications for 130 openings in 2018-2019 school year.
"Our first year exceeded expectations in almost every way," says Tim Hurley, executive director of education for Movement Foundation. " I can't speak highly enough of how the teachers, staff and Movement School families worked together to love, value and educate the students, encouraging them to new heights."
Movement School is open to all students in North Carolina. About 75 percent of its students are from economically underserved areas, compared to the Charlotte-Mecklenburg average of about 45 percent. The school's early success can be attributed to both its academic and operating models.
Academically, Movement School bases its philosophy on the successes of Sugar Creek Charter School in north Charlotte. Curriculum is a balance of academics, life skills and character education. Students are also given enrichment times in smaller group or one-on-one settings to address specific areas of instruction.
Movement School operates on a system that creates a sustainable, scalable model for serving economically underserved communities. The school is supported by the nonprofit Movement Foundation, which owns the real estate and pays for renovations and infrastructure. The school then leases the facilities from the foundation at a reduced cost and uses its state, per-pupil funding to cover operating costs.
Future growth
In addition to its second campus on the eastside, Movement School plans to break ground on new construction at its Freedom Drive site in 2019 to make room for a middle school on the same site. Both the Freedom Drive campus and the Movement School East campus on Central Avenue will each eventually have room for 900 students in kindergarten through 8th grade.
Movement School already has 130 students on a waiting list for future enrollment openings.
Comments
comments