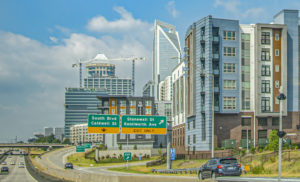 Despite the pandemic, Charlotte maintained its renter fanbase throughout 2020 as it received the nation's 10th largest number of renter applications last year. That's according to RentCafe's most recent mobility report, which analyzed approx. 1.7 million renter applications nationwide to search for renter migration patterns.
Key findings from the report on Charlotte's apartment market include:
A little over 50% of the renters who decided to move here came from the suburbs, the other half coming from other urban locations. 47% of incoming renters relocated from out of state.
Raleigh takes the lead in the list of the most common originating places for inbound renters. It is followed by Concord and Durham in the top 3.
The no. 1 out-of-state originating city for renters interested in Charlotte is New York City.
52% of the renters interested in relocating to Charlotte applied for more spacious homes with Mallard Creek and Ballantyne attracting the most interest.
Charlotte is still a magnet for millennials, as they were by far the largest share of renters headed to the city, 52%, followed by Zoomers (20%). Actually, Gen Zers were the fastest-growing segment, registering a 41% increase as compared to 2019.
The typical apartment renters landing in Charlotte (51%) had an income between 30K-65K, while 27% were in the 65K-100K and above income brackets.
Charlotte Stories is continually partnering with the best real estate agents in every part of the Charlotte region.
If you're thinking about buying or selling a home anywhere around the greater Charlotte region, let us connect you with a top agent in your area by filling out the form below:
Comments
comments