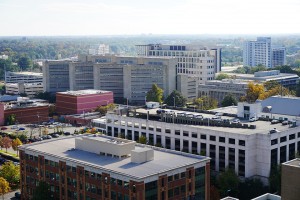 The Mecklenburg County's Department of Criminal Justice Services has just received a $2 million grant from the John D. And Catherine T. MacArthur Foundation to increase justice system reforms and reduce Mecklenburg County's jail population.
The grant was given as part of the national Safety and Justice Challenge, a $100+ million initiative to reduce jail populations by changing the way our country thinks about and uses jails.
The new funding will be used to implement new strategies to address the main drivers of local incarceration, including ineffective practices that unfairly target people of color, low-income communities, and people with mental health and substance abuse issues, according to a press release.
"Over the past few years, Mecklenburg County's Department of Criminal Justice Services has worked with the Safety and Justice Challenge, surrounding communities, county, and city partners to eliminate the overuse of incarceration," said Sonya Harper, Criminal Justice Services Director for Mecklenburg County. "The additional financial support provided by the MacArthur Foundation will help ensure that we have the necessary monetary resources to continue what we started."
The county will implement the following key strategies to improve our justice system, with a goal of reducing our jail population by 13% over the next two years:
Automation of the existing Public Safety Assessment (PSA) tool.
Improving current bail policy to help reduce jail bookings of defendants charged with Class 3 Misdemeanors – low-level offenses that usually do not involved jail time.
Enhancing services provided to defendants pretrial, including expediting and increasing releases to pretrial supervision and exploring additional alternatives to detention.
Expediting case processing procedures.
Developing and implementing a workforce curriculum on implicit bias and its corresponding impact on disproportionate criminal justice outcomes.
Implementing policy and practice changes regarding how warrants for failure to appear and failure to comply will be issued and managed.
Enhanced community engagement initiatives including partnering with residents to identify and implement community-led programs and policy interventions to improve Mecklenburg County's criminal justice system.
After partially implementing many of these strategies over the past 10 years, Mecklenburg County has seen a steady decrease in its daily jail population from 2,674 in 2007 to an average daily jail population of 1,611 in 2017 (to date).
More information about the work underway in Mecklenburg County can be found on www.mecknc.gov, as well as on www.SafetyandJusticeChallenge.org.
Comments
comments