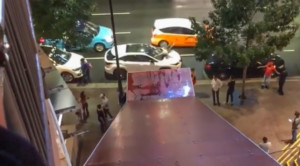 At around 2:30 am this morning, a man was arrested after for injury to personal property after he slid down an Epicentre roof and damaged a parked car, according to CMPD.
Weaverville resident Alex Freudenberg was allegedly offered a bet $100 to slide down the awning that covers one of the Epicentre's escalators.
Witnesses also say that Freudenberg had a few drinks in him at the time of the incident.
Cell phone cameras were rolling when he took the bet;
About this time last year, a different man was arrested for damaging a car after he jumped off the Epicentre's skybridge.
Comments
comments