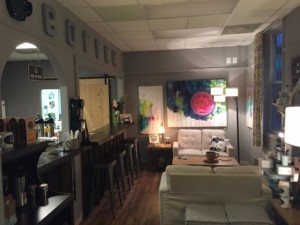 A new coffee shop recently opened in downtown Huntersville, but instead of just serving locally roasted coffee and fancy lattes, 'Studio Coffee' also gives local artists a place to create, display, and sell their work.
Bill Downey opened the new shop about a month ago after a career in human resources. He took the plunge after spending years researching the latest coffee trends and brewing techniques, and what the other coffee shops in the area were missing.
His menu now includes a wide variety of single-origin coffee roasts with pour overs, true cold brews, and everyone's favorite lattes.
The 'art studio' component of 'Studio Coffee' consists of Bill's wife, Donna Downey's passion for creating globally inspired works of art and teaching others how to also harness their passions. She now organizes regular workshops at the cafe/studio with many other partner artists.
The Downey's also host a wide range of meet-up type events, live music shows, and poetry nights in what is quickly becoming one of Huntersville's favorite hangout spots.
Check out their ongoing displays and events on their Facebook page here.
Comments
comments