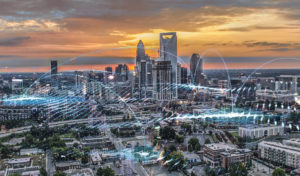 The John S. and James L.  Knight Foundation has just announced a massive new $1 million investment to help our local CFA "Tech Brigade" in Charlotte, providing increased training for tech talent across our city.
The five-year commitment brings Knight's investment in Code for America and its mission to nearly $10  million since 2010. Code for America's mission is to build a network of cities, citizens, community groups  and startups committed to using digital technology to help the government work better for everyone.  
This new investment will give local Tech Brigade  leaders training to support volunteer engagement, mobilization and retention; increase grassroots  fundraising; and experiment with new revenue models. They will also be given technical tools and  project-management support to carry out new projects and build a blueprint of sustainable models that  better integrate Brigades into local civic tech ecosystems. 
"Code for America is the preeminent organization that promotes resident-driven government in the  digital age," said Lilian Coral, Knight's director of national strategy and technology innovation. "Their  efforts to create successful community-led systems that support technology innovation has been  successful. The opportunity before us is to support the Brigades, so that they can be resilient and  sustainable in improving how the government serves the public in a digital society." 
There are now 25,000 Code for America volunteers in 85 chapters that cover 41 states, working together  to identify priority issues for the network and create digital solutions that can be replicated across  communities. Brigades bring together community organizers, developers and designers to collaborate  with local government and community partners to build new tools that help address local civic issues. 
In 2020, a year of multiple crises, local Brigades led numerous efforts in response to the pandemic by  developing more than 100 COVID-19-specific projects and 307 total projects that reached 5 million  people and directly served over 700,000. "They help make government services more accessible and  easier for people to understand and use — which in turn, help make citizens more informed and  engaged," Coral said. 
"All levels of government in the digital age should work for the people and by the people to build strong  and resilient communities," Code for America CEO Amanda Renteria said. "The Knight Foundation's  latest commitment allows us to continue to meet community needs and build local capacity for our  Brigade volunteers to do the important work of advancing the digital practices that will benefit the  public." 
Beginning on May 12, Code for America will be hosting a two-day virtual summit that brings  changemakers into one room―public servants, advocates, technologists and organizers—who break  through some of governments' biggest challenges by removing barriers and expanding government  access to equitably serve all Americans. The summit will feature dozens of keynotes, breakout sessions  and workshops.
Anyone interested can now register here.  
Comments
comments