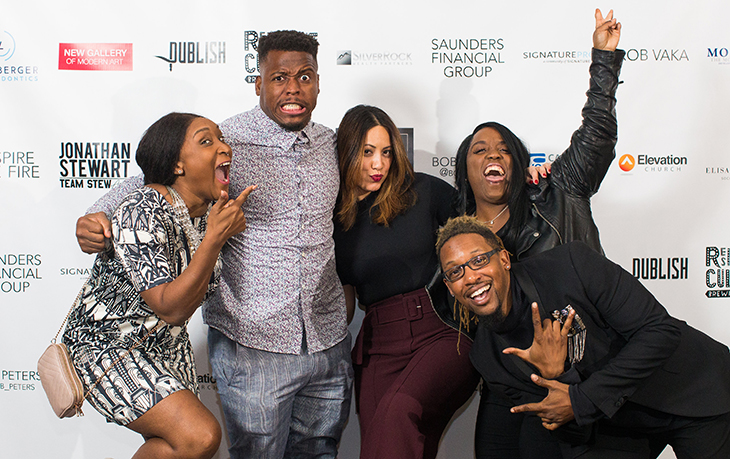 When the controversy over NFL players kneeling was at its highest back in September, Jonathan Stewart wrestled with what to do. He decided that the best way he could respond would be to pour his efforts into a local non-profit here in Charlotte – Ignite The Fire (ITF).
According to their website, "Inspire the Fire Inc. is a non-profit organization committed to helping young people succeed on stage and in life. We provide students age 10-19 yrs. artistic coaching in artistic development, life skills, and community engagement."
Natalie, Jonathan's wife, attended one of ITF's concerts during Elevation Church's 'Love Week'.
"Natalie showed me a video of them doing a concert with so much unity and passion, just pouring out everything," Jonathan said. He jumped on board and soon decided to organize something for the kids.
The first collaborative event started with a time of sharing – the kids had a chance to express their feelings about things that are going on in their lives, what their concerns and fears are, and what they think about the current race relations in our country.
"It was just cool to hear their voice and for them to know that we are here for them and that we're not just showing up on Sunday taking a demonstration – we're taking action now," Jonathan said.
After sharing their thoughts, the players joined the kids for a collaborative painting session. They worked alongside the kids to create unique paintings that would later be auctioned off at ITF's own fundraiser.
"It's giving them a piece of ownership and a piece of confidence to say 'I can do anything,'" he said.
Last Sunday, several of the kids were given field passes to the Panther's game where they witnessed Jonathan's record-breaking 3-touchdown game.
The next day, Jonathan and his teammates, ITF, and about a dozen other local partners held the art auction for ITF in the heart of Uptown.
They raised over $40,000 for ITF through sponsorships, ticket sales, and actioning off a few dozen one-of-a-kind items, including;
Jonathan Stewart's game-worn "my cause my cleats", which were painted by one of the ITF students with the Bible verse reference Phil. 4:13 on the side for $1,500;
A chalk painting of Jonathan by artist Lee Baxter for $2,500
A signed photo of all the team captains for $1,750
and all of the kid's paintings (plus about a dozen other one-of-a-kind panthers items);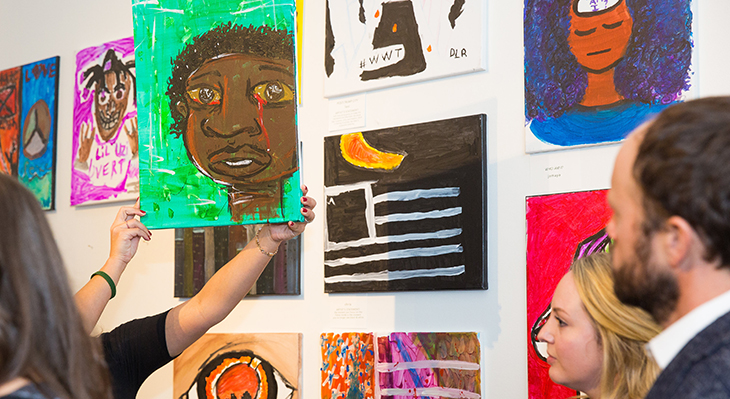 Almost everything for the event was donated, including food from Fahrenheit, the event space by the New Gallery of Modern Art, photography by Kristin Byrum, and custom drinks by Bob Peters from the Punch Room. AZSN Studio and Katrina Hutchins Events helped with planning from start to finish, Elisabeth Rose made hand painted invitations, and DJ Jonathon Wylie pitched in to support the cause.
"It was amazing to see how quickly people came together and were willing to donate their time and resources. We had so many people interested in sponsoring and doing whatever they could to help support our event," Jonathan said. "People were quickly able to grasp what ITF is about and connect to the cause. All of that is because of what Dennis has created and it inspired so many other people to do something outside of themselves to support an amazing organization."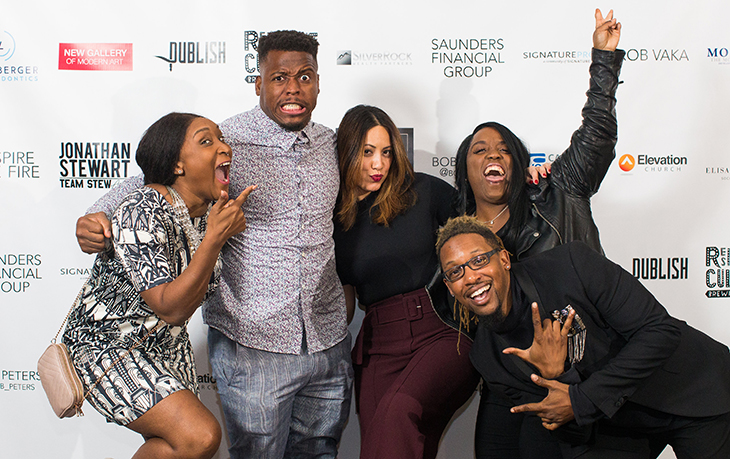 Team Stew plans on continuing to work with ITF to help kids across our city of find hope and inspiration in their lives.
"I'd like to continue to use my platform to help give ITF the resources it needs to continue to create more opportunities for the kids," Jonathan said.
Tomorrow evening (Dec. 20th) they will be holding their next fundraising event at CPCC's Pease Auditorium (1206 Elizabeth Ave) starting at 7pm – this time it will be open to the public;
Doors open at 6:30pm and tickets are $15 for adults and $10 for kids 12 and under – don't miss out!
When asked how Charlotteans can help inspire middle school and high school students in their communities, Jonathan said, "Encourage and take action (funding!!!) to the arts and creative outlets for kids, not just focusing strictly on sports and traditional academics."
If you'd like to get involved with or donate to Inspire The Fire, you can find out more on their website here.
Comments
comments