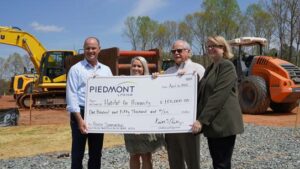 Habitat for Humanity of Gaston County has just received its first Full Home Partnership for the up-and-coming Dixon Village site.
On April 6, Piedmont Lithium (currently battling with Gaston residents over their proposed $840 million open-pit lithium mine) officially committed $150,000 to the new Belmont, NC community. This partnership will not only fund a home in its entirety, but also provides volunteer hours toward the home's completion. 
Said Kay Peninger, Habitat Gaston executive director, "We are grateful to Piedmont Lithium for their  leadership gift to help Habitat families purchase a home they can afford on their wages. Housing is not  just about shelter. It's about homeownership and it represents a gateway and an opportunity to building a better future." 
Dixon Village is a 7.5-acre development that will contain 28 houses in North Belmont. Approximately  one-third of the homes will be constructed for Habitat homeowners. The remaining houses will be for  market-rate homebuyers. This mixed-income neighborhood will be the first of its kind in Gaston County  and the greater Charlotte area. The innovative concept is designed to encourage interaction in a  diverse, closely-knit community, cultivating economic and social benefits as demonstrated across  research of similar developments. 
New research shows that communities like Dixon Village make a positive contribution to the area in  several ways, including a significant impact on success later in life for low-income children who grow up  in a mixed income neighborhood. Added Peninger about Dixon Village and Piedmont Lithium's contribution, "With the strength, stability and self-reliance that owning an affordable home brings, Habitat families can focus on their lives, their health, their children, their dreams and their path to a brighter future." 
Comments
comments