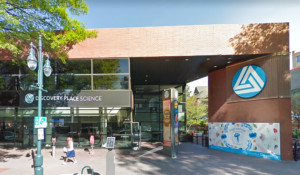 This week Discovery Place was announced as Charlotte's top museum and attraction for 2017 in the annual North Carolina Museums and Historic Attractions Survey.
Seeing 715,453 visitors in 2017, Discovery Place ranked as the #1 Museum and Attraction for Charlotte, #5 most popular in North Carolina, and the only Charlotte institution to make the Top 20 list in the state.
"We are honored to be continuously recognized as a top attraction in North Carolina and Charlotte, and serve as a trusted education resource in our communities," said Discovery Place president and CEO, Catherine Wilson Horne. "I am confident that we will continue to build on these accomplishments as we strive to meet the needs of our growing communities all across the region."
In 2017, Discovery Place was also honored by The Institute of Museum and Library Service as a finalist for the Medal of Honor. This is the nation's highest honor given to museums and libraries in recognition of their service for making a difference in the lives of individuals, families, and communities.
Last year, Discovery Place celebrated the milestone of serving over 100,000 people across the region through its community access program, Welcome. Discovery Place Nature opened a new digital planetarium in the Museum's original 1964 Charlotte A. Kelly Planetarium, offering both multimedia dome presentations and seasonal star shows. Discovery Place Science opened two new labs and exhibitions: the new biomedical lab Explore More Me and health science exhibition Being Me, and the new makerspace Thinker Space and Think It Up exhibition on the newly renovated Level 3.
The North Carolina Museums and Historic Attractions Survey is researched and issued by Carolina Publishing Associates of Matthews, NC. This is the 14th year of the survey.
Comments
comments