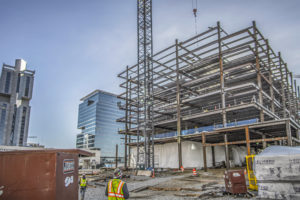 Crescent Communities is pleased to announce the continuation of its strategic partnership with social impact platform, Project Destined. The collaborative partnership offers students in underserved communities in Charlotte, NC hands-on mentorship and a work-based learning approach to support their growth in becoming future leaders in the commercial real estate industry.
Since its founding in 2016, Project Destined has worked with more than 4,500 participants in 35 cities across the U.S., U.K., Canada, and Europe to support its mission of providing training in financial literacy, entrepreneurship, and real estate to students from underserved communities. Crescent Communities served as the first real estate partner for Project Destined in the Charlotte, NC market.
"Crescent Communities' partnership with Project Destined allows us to invest in a future generation of real estate leaders from our community, supporting them from mentorship to talent acquisition, which is a critical process towards advancing diversity, equity, and inclusion in the industry," said Brian Natwick, Chairman and CEO of Crescent Communities. "We are excited and honored to be part of this leadership experience, and we look forward to continuing this partnership with Project Destined for years to come."
Project Destined leverages a work-based learning approach where students join executives to evaluate actual commercial real estate deals in their community and participate in a pitch competition to industry leaders to earn scholarships. During the program, Crescent Communities' mentors prepare, engage, and guide students one-on-one to help them develop a range of fundamentals—including financial, technical, presentation, and leadership skills—designed to aid them in obtaining internships, certifications, and full-time employment, launching their commercial real estate careers.
"We are excited to expand our relationship with Crescent Communities to grow our work in the Charlotte market," said Cedric Bobo, Co-Founder of Project Destined. "The Crescent Communities team has invested incredible resources to launch our platform in the region and to provide our students with mentoring, exposure and networking opportunities. We are proud to collaborate to prepare students for potential careers in real estate."
Since establishing the partnership in 2021, Crescent Communities has sponsored 17 students, with plans to continue and build on the relationship in 2023 and beyond. The fall 2022 Crescent Communities Project Destined team won first place in their division for their evaluation of the AXIAL Crosspoint site for a future industrial development.
"We have enjoyed watching this partnership, and the incredible educational opportunities it provides, unfold," said Tracy Chambers, Chief People Officer at Crescent Communities. "Our team of mentors has gone above and beyond to make sure each student has a diverse experience and leaves the program with an invaluable set of tools and understanding of real-world operations. We are grateful to partner with an organization like Project Destined that is invested in helping shape our next generation of real estate leaders."
To find out more or to join the program click here.
Comments
comments